Artists Residence for Nowhere Art Projects: Secured!
Are you planning on building some big art piece or art installation for Nowhere 2015? Are you with a barrio, old or new, who needs to put together a special module for your "home away from home" infrastructure? Now you can work in the comfort of an artists residency in Spain, provided for you by the Growing Nowhere team!
Building in the desert, with power and water limitations, under the scorching sun or in a dust storm (hopefully not in the rain, but that happened too) is not certainly help in making a good job. Sure, you will eventually have to drill, hammer and put rebars in the desert soil, but having the possibility of building your artwork in blocks or modules with a more effective workflow and a proper workplace, and then assembling your artwork or structure on site, is certainly a smarter move.
A practice already consolidated at Burning Man, where the artists of the major structures work for months in the several "burners builders hubs" in Reno or San Francisco. Electricity, water, shade, possibility to do a run at the hardware store or to schedule deliveries of building materials, to have a break with a sandwich and a cold beer, or a shower at the end of an hard working day is priceless, and helps get the job done in a easier, faster and more effective way. Building art in the city also definitely helps create better connections with the locals of Sariñena.
Interested? Want more details? Here we go!
Let's start saying that the artists residency is a work in progress project for the Growing Nowhere team. Let's also say that, while the artists residency project accepts contributions from the artists who will use the space and donations from the community at large , it is still a gift economy project – meaning that if you are a broke-ass artist you can certainly come stay and work at any time, and no contribution will be requested to help us pay the rent and the bills for the artist residency
Let's also say that we secured THE FIRST artist residency already, but we are working on securing also THE SECOND one. What? Two artists residencies? OK, here we go with a few more details – the artist residency we already secured is Can Pipirimosca, in Valls (Catalunya), and we are working on securing also a working space in Sariñena. We are not sure to be able to secure the Sariñena artist residency before this year's gathering, but we will not stop working on it until we will be able to host Nowhere artists also in the Monegros.
Here are some images of the main space we are trying to secure in Sariñena: amazing indoor space, large access door, huge outdoor backyard, perfect for parking and for further working and storage spaces. Not bad, hein?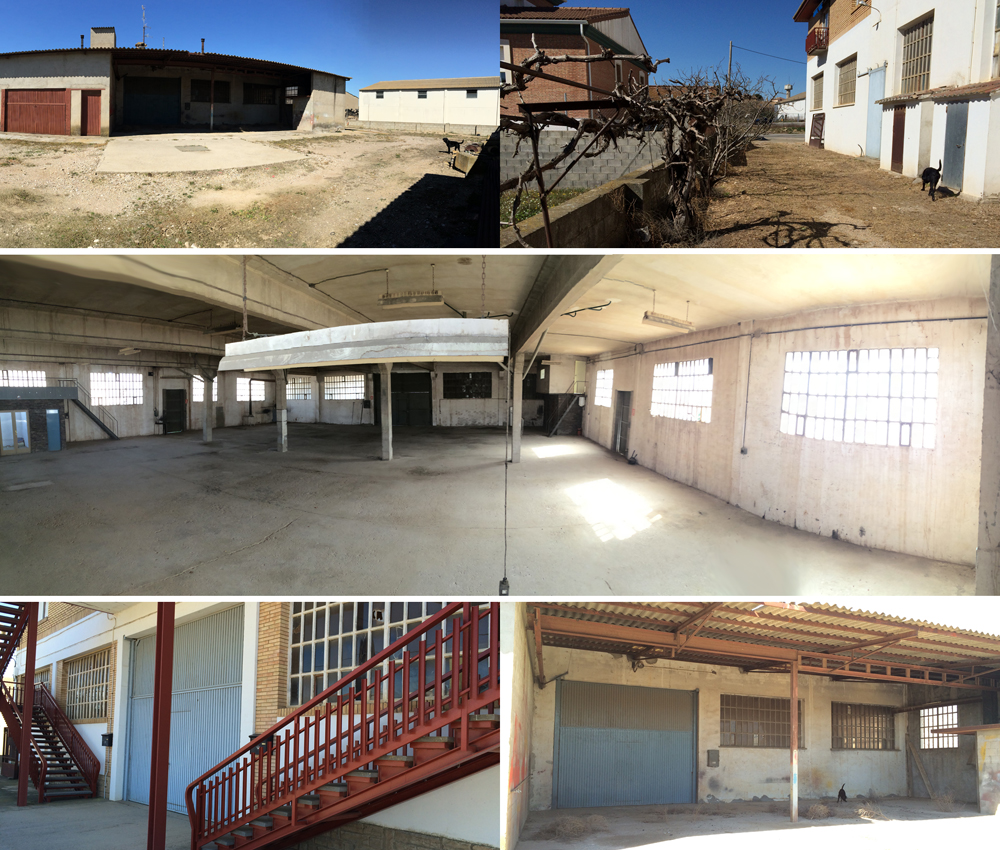 We have also put eyes on this other industril space, which is a bit smaller, but even closer to the hardware store – basically right in front…

We will let you know soon how our negotiations for the Sariñena workspace will develop, but in the mean time…
We are already very proud to announce that we had already secured a space where Nowhere artists can work their magic, Can Pipirimosca.
Can Pipirimosca is a permaculture farm located in Valls (Catalunya) and led by Pere, a Nowherian since 2008, and run by volunteer work. The permaculture farm has already hosted a couple of burners-inspired event, including the collaborative project after which our project has been named, the Growing Nowhere art retreat.
Can Pipirimosca is just 150 Kms away from Sariñena – not a walking distance to site, but just a short drive to Monegros, one hour and an half, max two if your truck is overloaded. Artists working from the future Sarinena artists residency will have to use a truck or van anyway to bring their art on site, so the relative distance is not really a big issue. See locations on the map below (Red = Nowhere site; Green = Can Pipirimosca; Orange = future space in Sariñena). Easy to reach from Barcelona with direct public transportation (train to Valls), it is even easier to reach for those who land at the closer airport of Reus.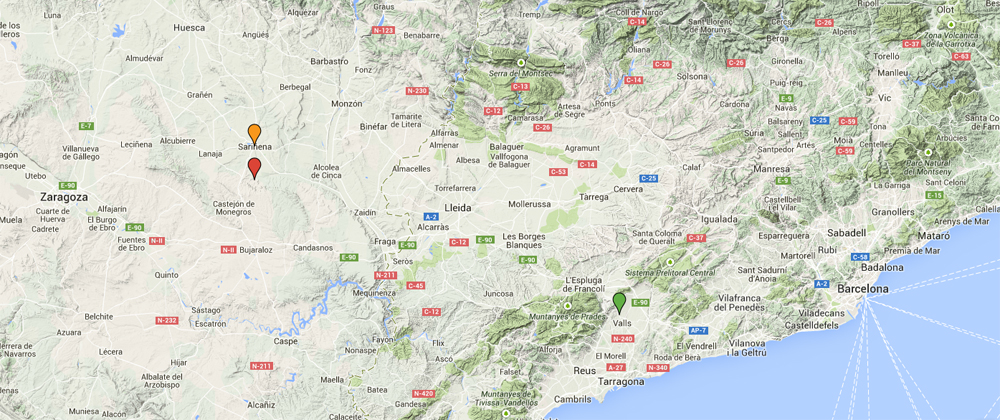 The advantages of working at Can Pipirimosca on your Nowhere project are huge, and an opportunity not to be missed:
Because of the permaculture mission, Pere have been collecting and storing at Can Pipirimosca plenty of recycled materials for years, and they are all available for you to use in your Nowhere project!
Can Pipirimosca has plenty of indoor and outdoor organized workspaces, with tools and machineries for all your carpentry, metal and creative project, that of course you can borrow for free to work on your Nowhere project. And a flat-bed trailer that can be borrowed for your project transportation!
In case you still need further materials and tools for your Nowhere art project, you can count on the vast resources of the area: reciclyng centers, huge hardware stores, and industrial suppliers all around the area of Valls, more resources in the nearby Reus and Tarragona, and no needs to go to Barcelona, which is less than one hour drive away, just in case.
Being a volunteer-run farm, Can Pipirimosca is equipped with plenty of room to host volunteers – big rooms filled with mattresses and bunk beds, plus several pre-fab homes, roulottes and camper van scattered around the property, so there will be certainly no shortage of space to host your project crew.
Also the kitchen is run by volunteers, and the communal meals at Can Pipirimosca are nice social moments not to be missed – the food, natural and organic, will keep you healthy and full of energy to work on your project. You can decide to offer a small contribution for food if you are planning to stay for a long residency or to get a big team hosted. Or cook a meal or two on you, just to share also your culinary expertise.
How does the Can Pipirimosca artists residency works?
The model is very simple, and all based on the gift economy principle. Growing Nowhere is proud to make it a gift to Nowhere artists, but of course the greater gifter here is Pere, and Can Pipirimosca. Pere is offering full access to materials, tools, working space, food and accommodation, but he doesn't ask for any payment or financial contribution in return.
The only request from Pere is that you and your project crew "give back" by volunteering at the farm in the morning, and you can stay and work on your Nowhere art project in the afternoon (or night, if you are behind schedule) for as long as needed. Pere is no too rigid about it, and he will be happy even if you have only a couple of people from your crew volunteering, while the rest works on the project full time.
One of our suggestions is to replace the tools that you have consumed through wear and tear such as nails, screws, cutting blades, welding materials, and all those that are not recycled materials. And if the support your project gets from Can Pipirimosca also make you save a little money from your Kickstarter budget, it won't be a bad idea to offer to the farm a couple of tools they don't have – Pere and all the Can Pipirimosca volunteers will really appreciate your "gift".
Staying at Can Pipirimosca is a great opportunity for you and your art project team to learn about permaculture, organic farming and agroactivism! If you want to know more about Can Pipirimosca, check out their official site (note: the site is all in Catalan language, but with plenty of images). Pictures? Here we go!
Can Pipirimosca: natural living and volunteering

Can Pipirimosca: tools and workspace

Can Pipirimosca: recycle, reuse, reinvent

Can Pipirimosca: artists residency dormitories

Can Pipirimosca: plenty of outdoor space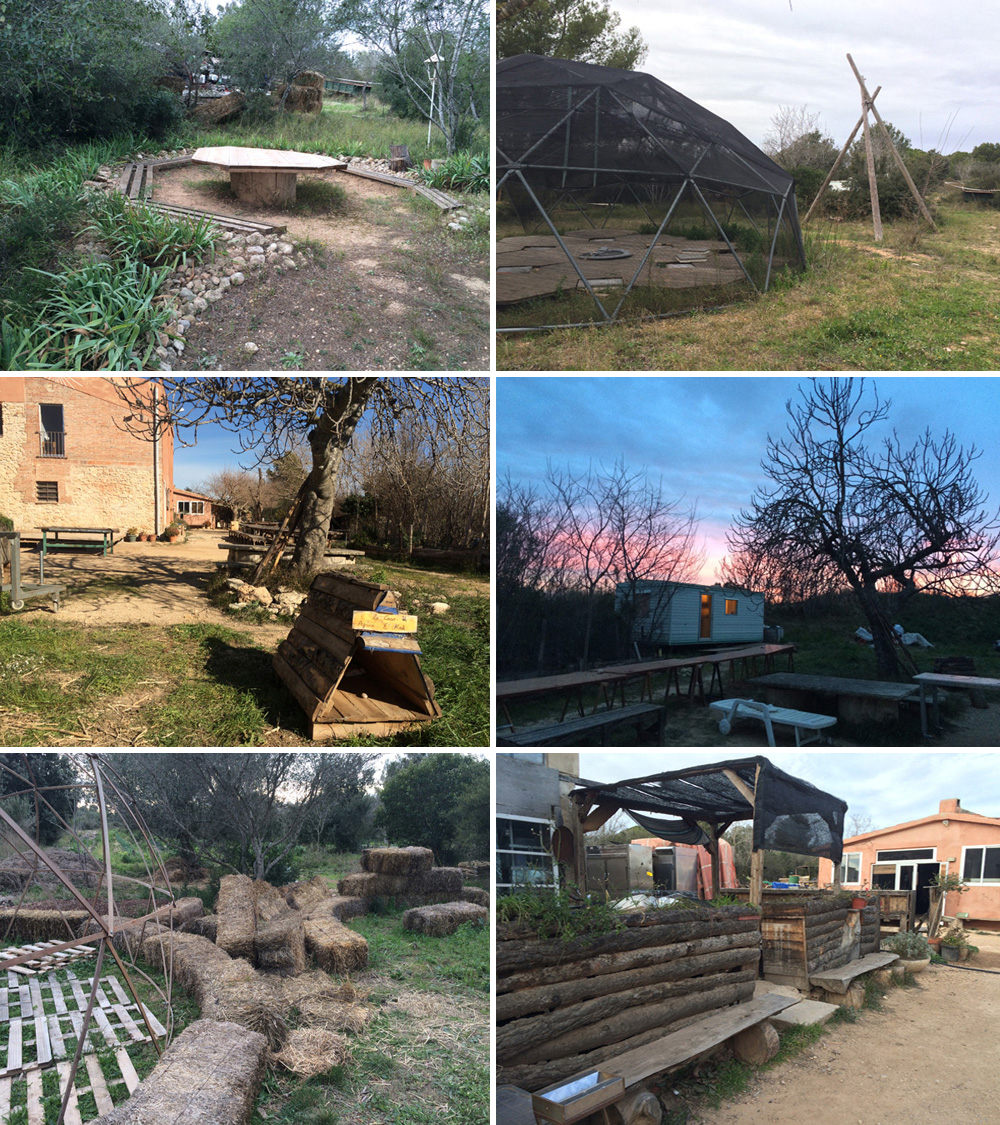 Nice, right? And very friendly environment too!
Do you want to visit Can Pipirimosca before planning to move in with your project crew? If you are participating to the next Barcelona Burning Bash Weekend 2015, held in Alcover (15 kms from Can Pipirimosca), members of our team will be happy to drive you there and introduce you to Pere and the rest of the Can Pipirimosca team. If you won't be among the participants of the BBB Weekend, we can still set an appointment for the Monday or Tuesday after the tear down of BBB, and we can still go together to Can Pipirimosca for the introductions.
In any case, if interested, get in touch with the Growing Nowhere team and let us know about your Nowhere art project, your building needs, and feel free to ask all the questions you might have to start plannig your project build in Spain!
Also, keep following us, as we will probably have more info on the Sariñena new artists residency soon, and updates about all other Growing Nowhere projects on the roll for 2015!