MARS – Monegros Artist Residency Sessions in Sariñena
Hi there, English speaking Growing Nowhere community! We just shared this blog post in Spanish, but we felt we needed also an English version for these amazing news. This year we have a major announcement, mostly directed to all Nowhere 2016 artists, but also to the barrio builders. Growing Nowhere and the Nowhere Embassy today are proud to present the new project of Nowhere artist residencies in Sariñena, with new art projects for the Nowhere 2016 festival.
After the successful artist residency session of 2015, which allowed the creation of the Temple of Reflection in Sariñena, and after our first attempt at offering a workspace to Nowhere artists (in collaboration with the Can Pipirimosca permaculture farm in Catalunya), Growing Nowhere is back with a new artist residency for Nowhere artists, a new concept of "artist coworking", new art projects created in Sariñena, and a new name for our artist residency initiative: MARS – Monegros Artist Residency Sessions.

The MARS acronym sounds good, and not only for the parallelism between the Monegros desert and the planet Mars, that has been recently celebrated with official missions in the Ruta Jubierre, simulating a future colonization of the red planet. MARS is also short for Monegros Ars (Arts, in Latin), the main focus of our artist residency project.
Just to stay on track with Latin and ancient Romans, since Nowhere / Burning Man artists are true warriors and "gladiators of the arts", able of working hard under difficult weather condition and in a limited timeframe to create amazing art installations, we hope that our last reference to the ancient god Mars of the roman era could be auspicious for our MARS project, and for all the Nowhere artists that we are starting hosting in Sariñena these days.
The most interesting aspect of art creation in shared production spaces is that of leveraging the opportunities of "artist coworking". Artists and project crews, besides of helping each other whenever an additional pair of arms become necessary, can share their skills and tools, join efforts to rent machinery or to share transportation costs for the art projects going to the Ruta Jubierre. A true communal effort, especially with regards to the production and logistics of the art projects, in line with our inspiring principles.
The major art project for the MARS 2016 artist residency is going to be, like last year, the new Nowhere Temple. This year the Temple is dedicated to the celebration of one's individuality and to a dimension of personal growth – hence the Temple of Self. The art installation (and sacred space for nowherians) is going to be approximately the same size as last year's Temple of Reflection (about 20 meters diameter/wide, and 8 meters tall), and will count on a international crew of volunteers for the build, and another group of "managing volunteers" during the festival days, the Temple Guardians.
As for last year's temple, Temple of Self has received an economic grant by the Art Team of the Nowhere organization, and a full support from the Nowhere community, that has financed the project through an online fundraising campaign. Even if the fundraising campaign is over since a couple of days, the Temple Crew invites to keep support the Temple project with donations, since the campaign didn't reach its financing goal. More info and the "donate" button at http://www.dreamordonate.nl/6066-temple-of-self-nowhere-2016.
We will share more info on the Temple of Self soon, just follow Growing Nowhere on Facebook for updates, or join the community supporting the project with open conversations at the Temple of Self Group on Facebook. Here are a few mock-ups of the Temple structure – do you like it?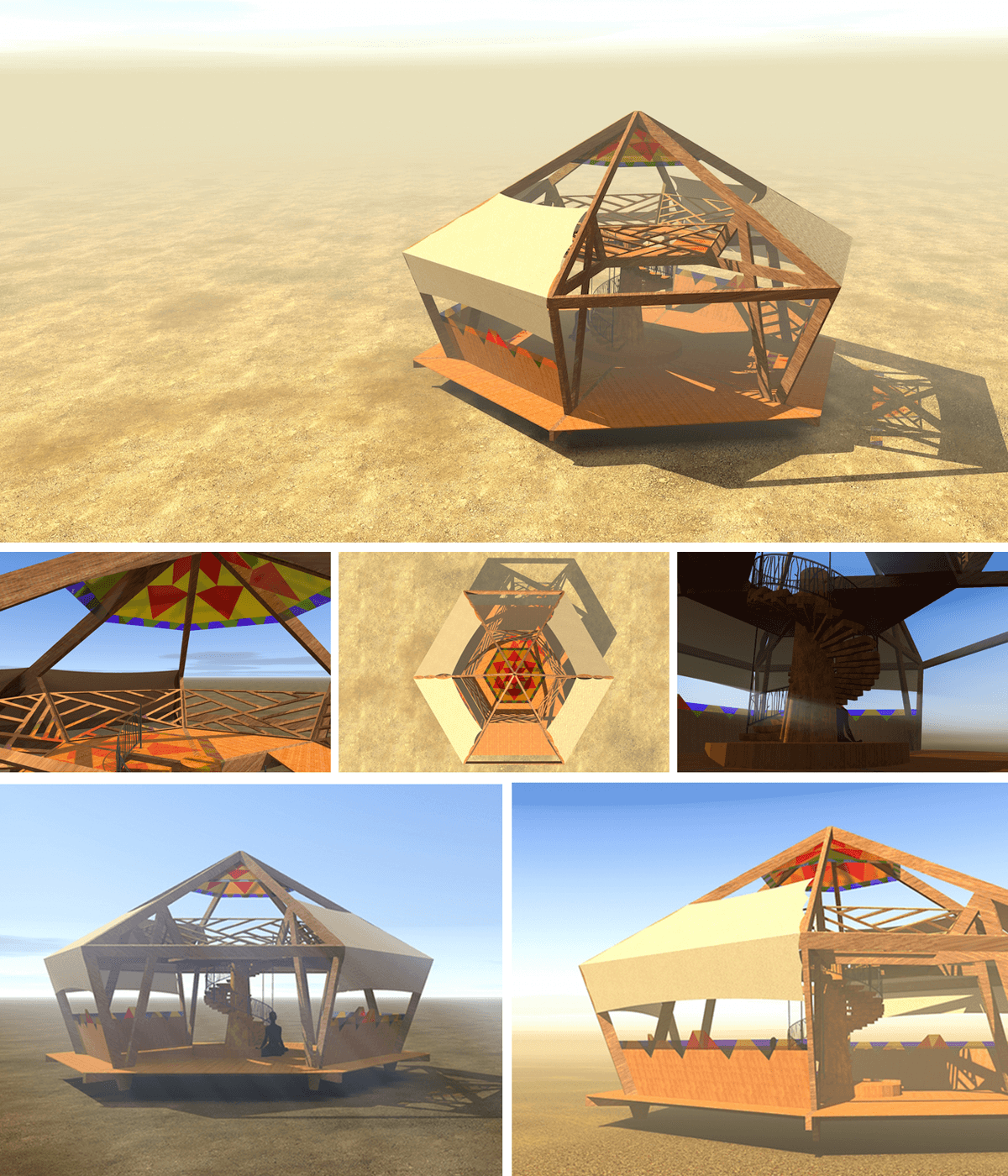 A structure this big needed plenty of construction space, so we asked support to the Ayuntamiento de Sariñena (Sariñena City). We have been very happy when they offered us to use the Sariñena trade show compound FEMOGA, since there will be no events scheduled in the two weeks prior to the festival. Gracias Sariñena for the amazing support!
The outdoor spaces at FEMOGA (normally used for trade shows of agricultural and farming machinery) are perfect for the Nowhere artist in residency, as they offer plenty of shaded areas, running water, industrial power plus, bathrooms, and enough space to build big structures, stock building materials, and move vehicles and tools around. For those who don't know the FEMOGA space in Sariñena, here are some pictures. It's huge!!!

A lot of space for developing the Nowhere art projects, with shaded workshop tables, a bar / kitchen area, secure storage to lock work tools at night, and even a couple of b-b-qs!

Plenty of space to park vehicles, load and upload vans and trucks, and to host all the Nowhere art installations that are in need of a "final touch" before hitting the Nowhere playa. Thank you from the heart to the Ayuntamiento de Sariñena for supporting and trusting us with their resources. <3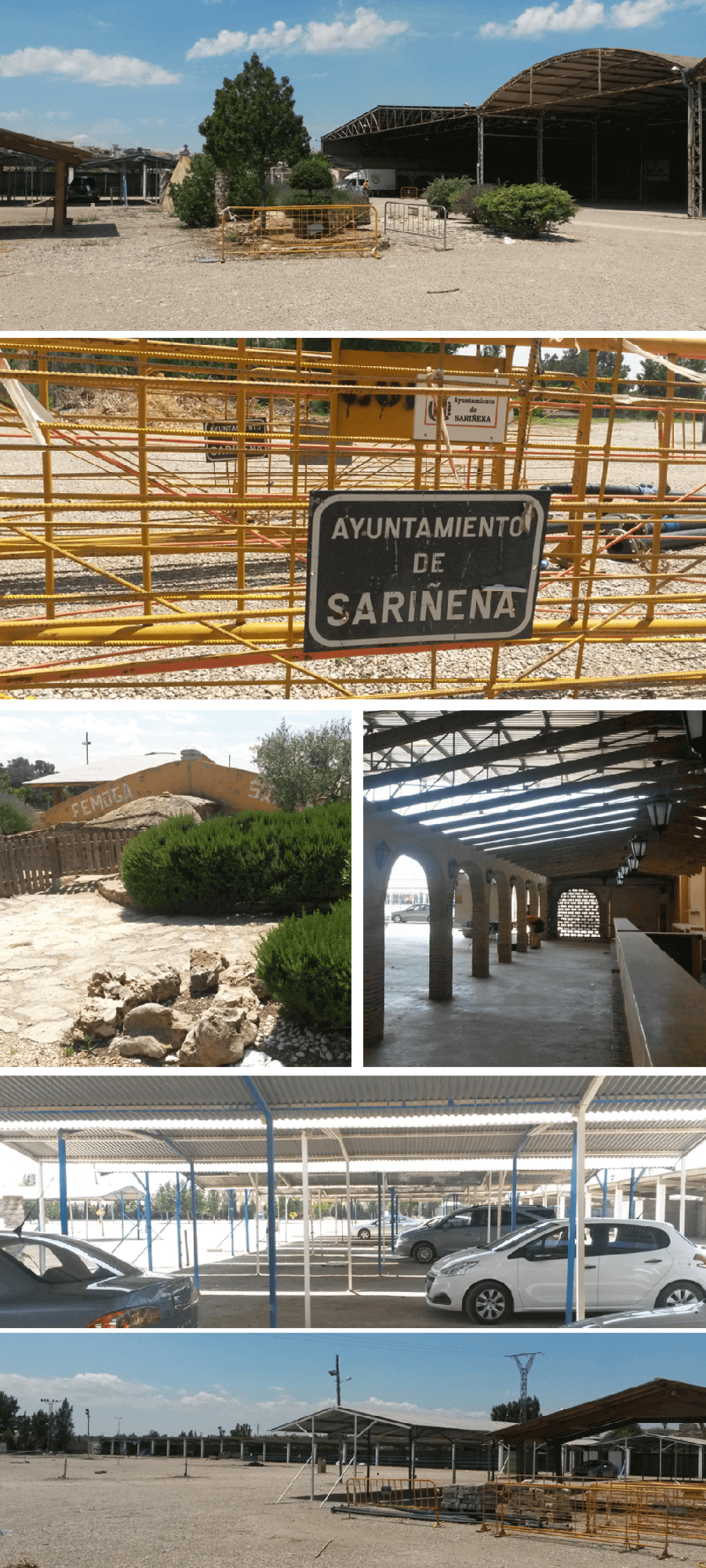 Since we had so much space, we spread the word among the community of Nowhere artists and builders, and other project crews will join us in Sariñena to work on their Nowhere art projects. During the last weeks the list of MARS 2016 artists and crews in residency has been growing, also including a couple of projects from Monegros artists. Among the projects that will be created or finalized in Sariñena there are, beside Temple of Self, a few smaller scale art installations (The Tree of Life, Parabella, Tripperlingam) and an art car: a van that will get transformed into an elephant for Nowhere – we hope he won't run away with the circus that is setting up right next to FEMOGA! =)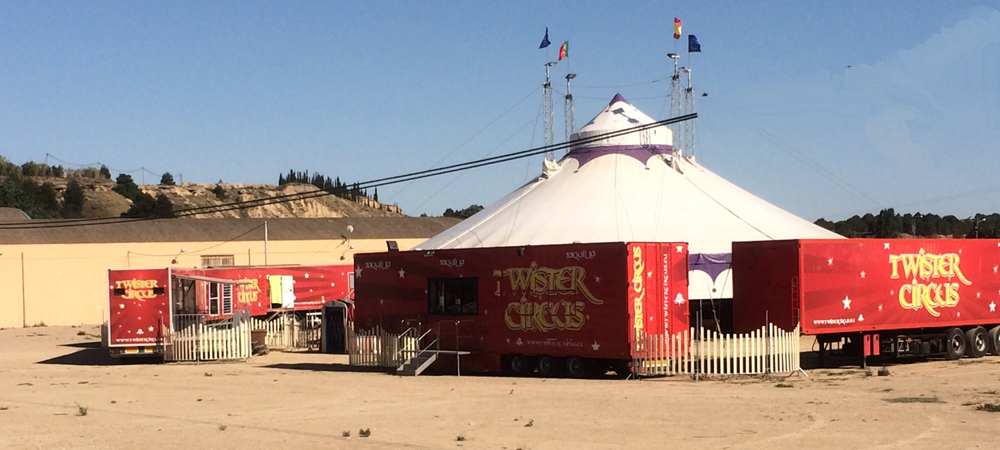 Do you want to join the MARS 2016 artist residency project and use our shared builders/makers/artists space in Sariñena to finalize your art piece (or barrio installation) before going on site? All artists and barrios are welcome, but since last minute logistics can be a b… a bit complicated, please get in touch with us to book your working space before the end of this week, final deadline on Monday, June 27. Get in touch with us via email and let's talk about your project needs Emails us at mars2016@www.burningmax.com.
Did we mention that the MARS sessions are free for the artists in residency? Unfortunately we don't have money to give out grants, but Growing Nowhere and the City of Sariñena will be providing all location logistic support (including use of some machineries like forklifts) as a gift to the Nowhere artist in residency. Gift economy, remember?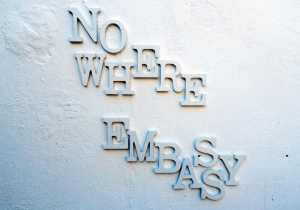 The Nowhere Embassy will be also hosting "at home" the entire Temple Crew and a couple more MARS 2016 artists, so we are fully packed in terms of home hospitality and can only offer the workspace to the artists in residency – but we can help you figure out cheap or free solutions for your project team to find accommodation in Sariñena for the days you will need to spend in the city to finalize your project. Just get in touch with the Growing Nowhere / Nowhere Embassy team, and let us know how we can help you and your art project. Email us at nowhere.embassy@www.burningmax.com.
We also invite all Sariñena and Monegros residents to come visit the artists in FEMOGA next week. Tuesday 28, Wednesday 29 and Thursday 30 June everybody will be welcome in the nowherian workspace, especially those who will decide to gift a couple of hours of volunteer work – a great opportunity to make instant new International friends!
Are you resident in Monegros, want to go to Nowhere 2016 but you still don't have a ticket because the event is sold out? Growing Nowhere has brought extra Monegros local tickets that will gifted to the local monegrinos or monegrinas who will come help the art projects on regular basis, becoming active members of one of the project crews. Interested? Just show up at FEMOGA next week and get involved with one of the project teams!
Growing Nowhere, in collaboration with the association Durgalé, organizes also creative workshops for kids on Thursday June 30, who will be inspired to express their creativity at FEMOGA by drawing and coloring some decorative elements of Nowhere Temple, that will be integrated in the Temple of Self structure. Thank you very much to Durgalé and to her founder María Pilar Anoro, a Nowhere "veteran" at her fourth Nowhere, and who also joined the Temple of Reflection build crew last year. This year Mapi, beside running the creative workshops for kids, will offer to all MARS artists in residency daily yoga and stretching sessions, every morning before start working. Gracias Mapi! =)
An important note about the entire residency session of this year, MARS 2016, that the Growing Nowhere team wants to dedicate in memoriam to a good friend who left us last week, Carlos López. Carlos was a great friend and a widely appreciated figure who has done a lot for his beloved Monegros. He always supported the Nowhere community, and in particular all Growing Nowhere projects and initiatives. Last year, the first Monegros artist residency has been possible only thanks to Carlos and Paqui's generosity, who have supported with all their resources the creation of the Nowhere 2015 Temple, the Temple of Reflection. Carlos will be with us also this year, in our hearts and in our spirit. Besides dedicating to him the entire MARS 2016 artist residency session, during the opening ceremony of the Nowhere Temple, at sunrise the morning of the first day of event, Carlos will be remembered with a few special words.
Over the next few days we'll be pretty busy with the organization of MARS 2016, of other Nowhere Embassy initiatives, and of course with our own personal and barrio preparation for the festival. We are not going to have much time for blogging, but we'll be posting many updates and pictures through Growing Nowhere's Facebook Page.
Follow us online, and meet us in FEMOGA next week!