Going to Nowhere 2016? Bring your dog to Monegros!
At Growing Nowhere we love animals of all kinds, sometimes even more than some humans… Many in the community know and love our Labrador champion Davola, a veteran burner dog. Davola has been an official Temple Crew member with the Nowhere Temple 2015, and "Gate Lead" also last year at both the Barcelona Burning Weekend, and the Burn Your Sunday in Paris. This year he signed-up as a Lead for the organization of the MARS artist residency where Temple of Self and a few other Nowhere art installation will be built or finalized. Many also remember Davola been an active participant at other burners events in 2014, including being totally cool at the massive burn of The Monster is On Fire in Milan, and even djing at Burn Your Sunday Paris, even if he was still a puppy back then. =)

Nevertheless, Davola and many other four legged companions of Nowhere participants, are still banned from the event, that adopted a no dog policy back in 2014, after 10 years of occasional pet participants on site with no pet-related problems whatsoever. The reason for the sudden Nowhere dog ban was the organization's failure in managing some uneducated non-burners participants that crashed Nowhere 2013 with their even less educated 3 dogs.
Rather than regulating the dog scenario with the adoption of a pet policy (something that many burners events around the world have done successfully), the Nowhere organization decided that it was easier to make life difficult to participants with dogs, by banning pets on site for good. Basically the solution has been to "exclude" those participants, members of the Nowhere community, who for logistic or financial reasons cannot leave their pet behind, spending money on two weeks or more of dog pensions, besides of missing their beloved companions.
Growing Nowhere has proposed many times the adoption of a pet policy for Nowhere, but never got feedback on it, besides of unreasonable rejections without even the pleasure to get to discuss the policy proposal (or even better, having the community discussing it). Curious about the pet policy proposed by Growing Nowhere a few times over the last couple of years? Download it from here, and let us know what do you think of it.
There really are no reasons to ban dogs from Nowhere. While at Burning Man there is the issue of the alkaline soil that can damage dog's paws (but yet DPW volunteers are allowed to bring their dogs, if they don't show them in public places during the event), there is no such problem in the Monegros. As a matter of fact, the entire area is a "paradise for game hunters" and the hundreds of hunters of the region spend entire days from dawn to dusk (and sometimes the entire weekend) out there in the Monegros wild with their dogs. And let's not talk about the hundreds of shepherds and their dogs, who obviously have no problems in "being exposed to the harsh environment" of Los Monegros. Ask all local monegrinos, and they will certainly tell you that, if you intend to spend a few days and nights al monte, you'd better leave your babies at home, and bring your dogs.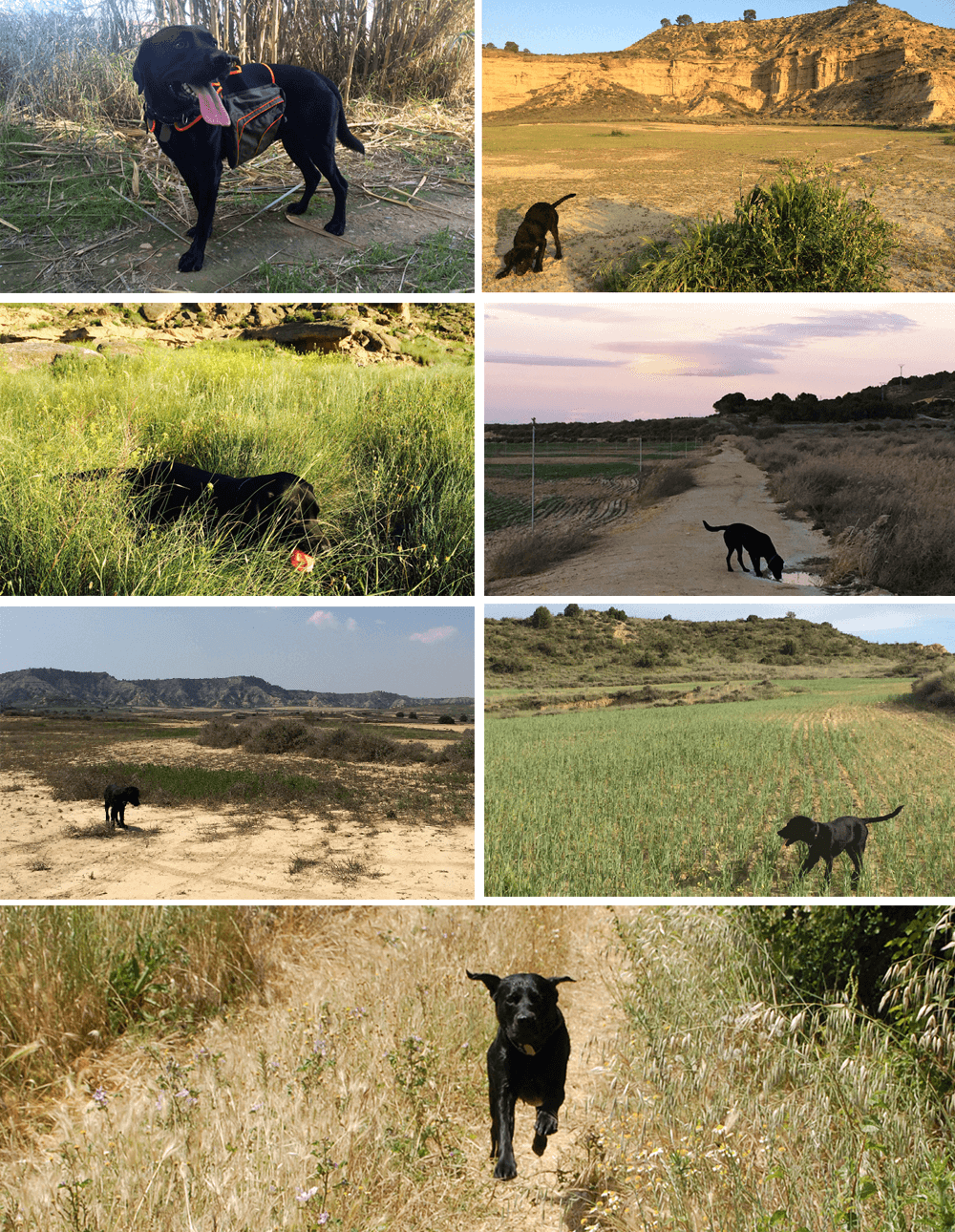 Seriously – if the Monegros desert is so bad for dogs, then we should reconsider the participation of kids, specially the very young ones under 5, sometimes even under 2 or 1 years old. Kids, besides of being exposed to the same harsh conditions as everybody else (and being certainly more fragile than a dog), are also exposed to the "spirit" of the community, that sometimes (often) goes past borderline with kinkiness and other extremes. This alone certainly don't make Nowhere a "safe place" for young participants. Or, if it's cool for the babies, then it should be also for a pet. Or are we wrong?
Don't get us wrong, at Growing Nowhere we love kids, and we know that Nowhere is a safe place for babies and kids, if their parents are responsible and well organized. We also know that Nowhere and the Monegros are a safe place for dogs too, if their pet-owners are responsible and well organized. Same goes for the grown-ups. Add a pet admission policy for good measure, and there should be no problems at all.
It's all about regulating, instead of prohibiting, banning and excluding. All burners and nowherians are "regulated" by the BM principles and infinite check-lists from the Survival Guide or Barrio Bibles. Parents have their "bringing a baby out there in the dust" information provided by Malfare/Inclusion, and artists have their regulations by Art/Kunsthaus to make sure their art won't harm the participants or the environment. Participants who are pet owners have a ban, instead. It should be about inclusion, not exclusion…
Anyway, tired of trying to be reasonable and rational with those who don't want to hear, Growing Nowhere and the Nowhere Embassy are now offering a real solution to Nowhere participants with pets, a solution that allows nowherians with pet companions to save money on the bad logistic solution of leaving their pet behind.
Our new gift to the community will also allow participants traveling to Spain with pets to keep enjoying the Spanish summertime without the hurry of going back home, and to participate to other summer festivals in France, Spain and Portugal, including the Boom Festival. Note: pretty much all outdoors summer festivals in summer regulate but accept the presence of pets. Boom Festival has a pet policy that bans dogs from the crowded camping and music performance areas, but pets are still accepted if they have their shelter in a camper van (not in a tend), and stay in the caravan park area (which is huge and also has a beach). Davola of course can't wait to be in Portugal in a couple of months…
If you go to Nowhere 2016 you can bring your dog!
Growing Nowhere and Nowhere Embassy, besides of offering artist residencies through the recently announced MARS 2016 project, are now offering also "dog residencies" to our four legged friends excluded from Nowhere.
We have secured two "rooms" in a doghouse just 5 km. away from Sariñena, and we can host four medium sized dogs (or two big sized ones) FOR FREE – this offer goes to the firsts who will sign up for our dog-friendly initiative. Well, we expect the dog owners to sign up, even if sometimes pets seems to be pretty internet-savvy. =)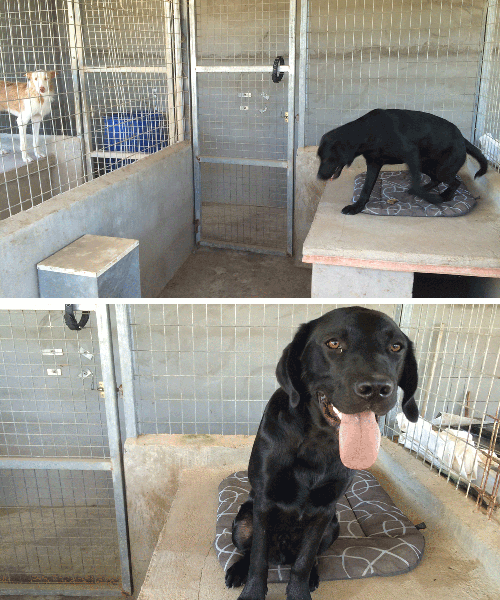 The "dog accommodation" is kindly provided by our friend Sergio of the DIA supermarket, who has already gave us access to the his hunting dogs kennel in the past. The participants pet owners who will sign up for the Growing Nowhere initiative will have to follow only few basic rules: provide enough food for their dogs (no water is needed, the kennel has automatic fresh water distribution), and leave no trace when they "check-out".
Here you can see Davola at Sergio's kennel two summers ago, when we had to find a last minute solution to a last minute ban that went effective AFTER the ticket sale (no comment). No, he doesn't look happy – who does when you're lock in a cell? We really don't like to lock animals, and our Davola will stay at friends with a garden during the event, but this is the only viable solution we have found to offer a free, gift economy service to our fellow nowherian pet-owners. Rest assured that the place is clean, big enough for the pets not to feel "in a cage", and in a very quiet countryside place, with no traffic sound, only nature. It's a nice place, if it wasn't for the locked cells…
Since it's not fair to leave the dogs locked for the whole week, Growing Nowhere and Nowhere Embassy will organize a Nowhere Dog Walking + Swimming Tour for our four legged friends (and their owners) on Thursday early afternoon. We will leave site with the owners of the "dogs-in-residency" to go pick-up Davola who will be staying in Sariñena with friends. We'll then go to "free" our pets, bringing them for a couple of hours to the amazing close-by Pantano de San Juan, where Davola will show off to his new furry friends how he can dive into the lake to "save" a stick or a pine cone, while the nowherian dog owners can enjoy the fresh waters, the nice pine trees shade, the time with their pet, or all of the above.
The Nowhere Embassy will provide some nice treats for our furry friends, and fresh (non alcoholic) drinks for their happy owners. Bring your own food, drinks, swimming gear and pet toys, and be ready for a collective Leave No Trace sweep before we leave (of course). The Nowhere Embassy will also provide a summer beach mood thanks to a chillout DJ set by our very own DJ resident Burningmax. Since our initiatives are truly inclusive, we invite also participants who are non pet owners to our pet-friendly afternoon chill by the water.
Want to sign-up for our dog residency initiative, or for participating to the Nowhere Dog Walking + Swimming Tour even if you don't have a pet? Send us an email at nowhere.embassy@www.burningmax.com, let us know a few details about you and your pet, and we'll secure one of the free kennels for your lucky companion, or we'll sign you up for the Nowhere Dog Walking + Swimming Tour. Remember, the free spots at the kennel will be allocated on first come first serve basis. Deadline for applications: Sunday June 3rd.
Here are some pictures of the Pantano de San Juan, the nice hidden Monegros corner we'll share with the lucky participants to our pet-friendly initiative, regardless of their number of legs. Click on the image or on the link to see our photo album on Facebook.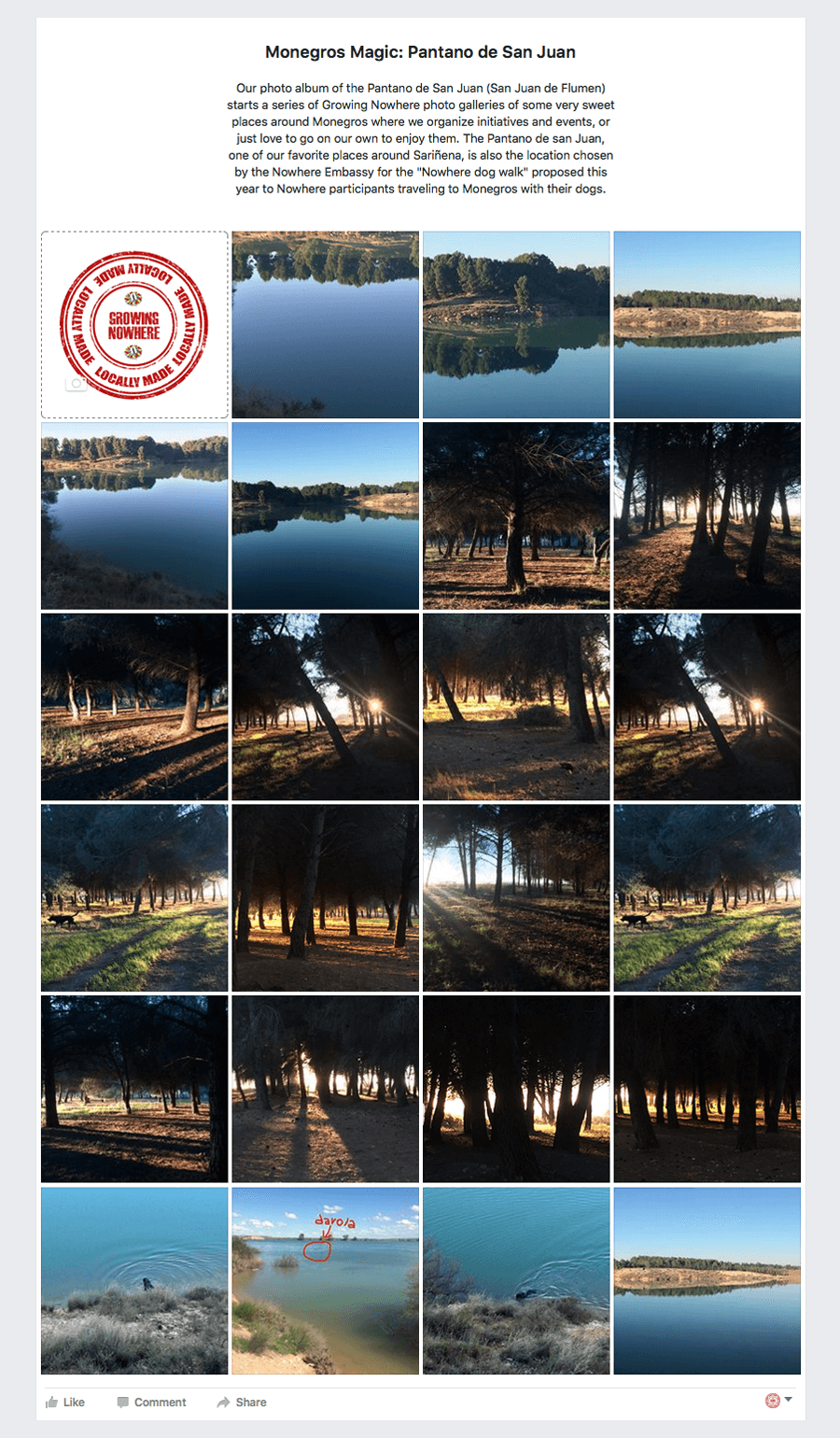 Too late for the free kennel? We got you covered!
Do not panic! If you or your dog applied too late for our free kennel gift, and found no more room available for your furry companion, we have the perfect second best solution for you and your pet. We recently discovered Holidog, a sort of Airbnb for pets that can help you find somebody around Sariñena who can take care of your dog while you enjoy the Nowhere experience. Finding a dog-sitter (cuidador de perros, in Spanish) has never been so easy, check out our instructions in the images below.
The website is international but still in beta version, and some of the site functionalities are still not optimized. For example, the biggest problem you'll find is that you will be able to conduct your search only in Spanish. The site is designed to find a petsitter "close to where you live", but it doesn't take in account the need for a pet carer when you are traveling abroad. So if you need to look for a petsitter in the Monegros, you will need to access the Spanish site telling the site that you actually live in Spain. Don't worry, we have made it supersimple for you with our visual demo. Start by visiting www.holidog.com and tell the site that you are from Spain.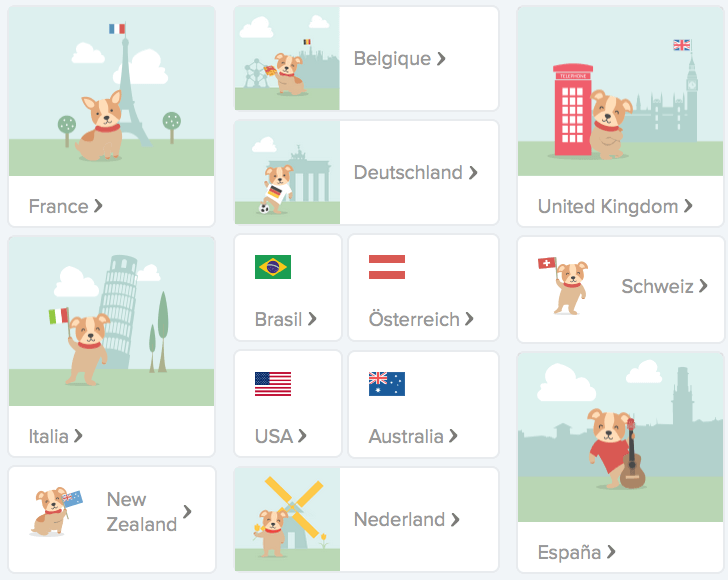 In the Spanish homepage, just type "Sariñena 22200". The system should recognize city and zip code, confirm and hit "Buscar".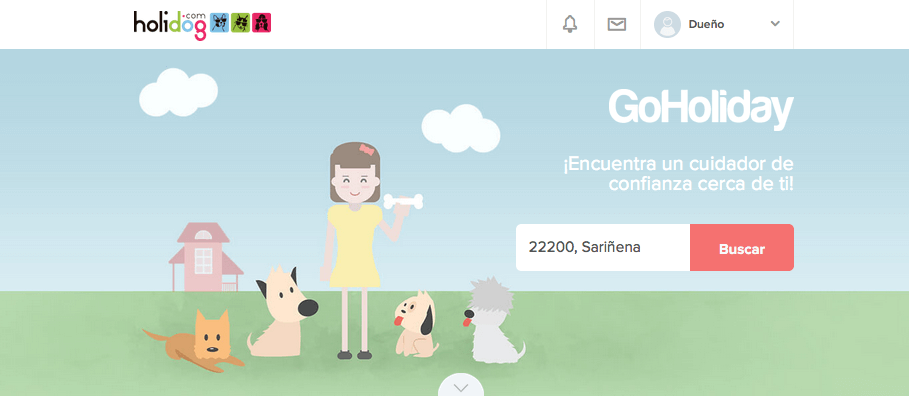 Next is telling the site which kind of pet you have.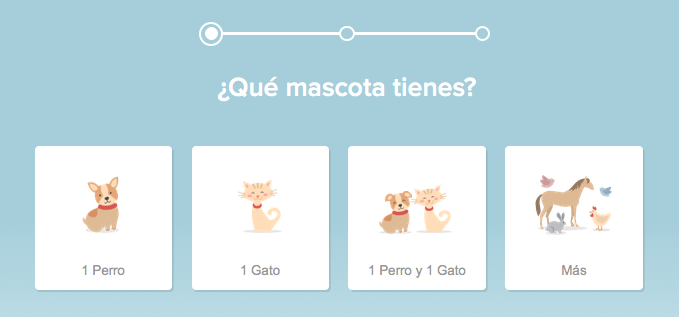 Select the petsitting service you are looking for – you want to click on "Servicio en casa del cuidador" (Service at the petsitter's place).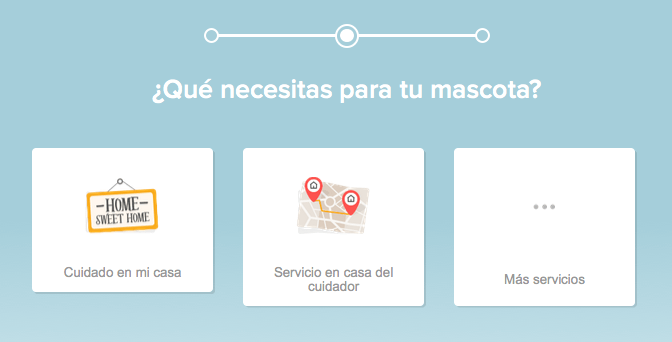 Finally, you select the dates you need the petsitter for. We made a search for one dog with the check-in and check-out dates matching those of the festival, if you conduct a search with other parameters results might change. Click "Muestrame a los cuidadores!" (Show me the petsitters!).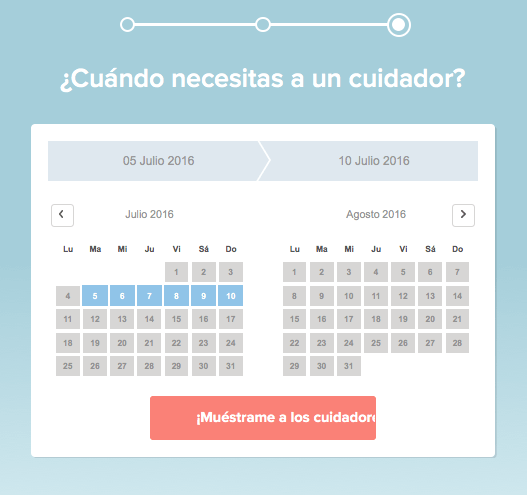 Et voilà! We got you 8 petsitters in the 40 kms distance from Sariñena. No petsitters in the city but some of the available ones, like the one in Sigena, could be even close to site than going all the way back to the city. Others, like the many petsitter options in Barbastro or Binefar, are easily reachable on your way to Nowhere from Barcelona, making a slight detour once you reach Lleida. Peñalba and Leciñena are good options if you are driving from Zaragoza. Check a Google Map to figure out your travel itinerary.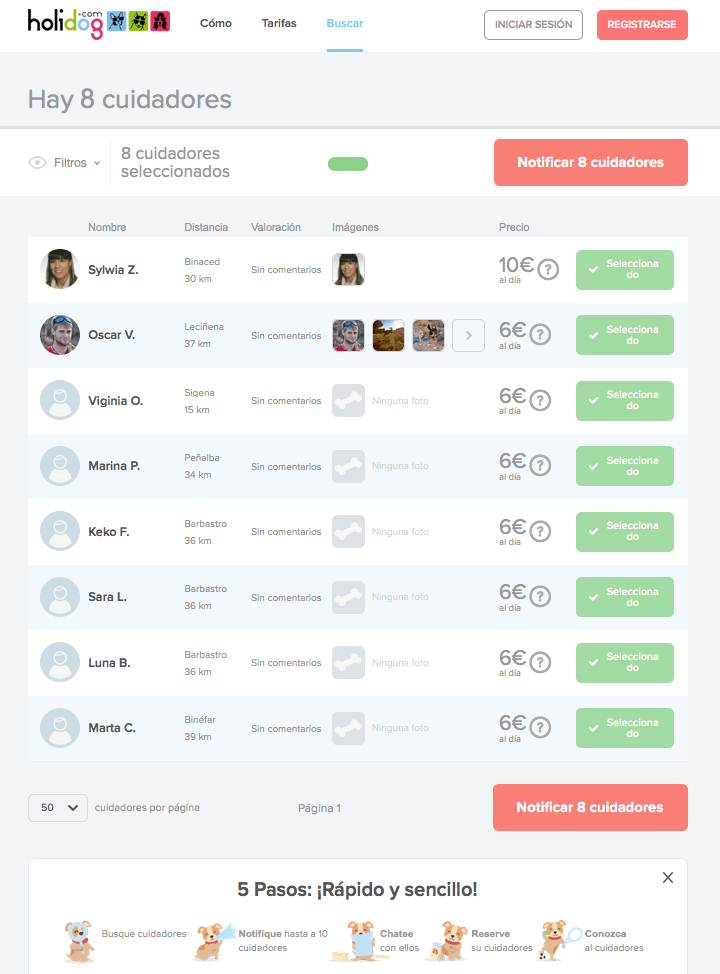 Also, pricing is a real bargain – at 6 euros per day, dog owners can have their pet taken care of for the entire duration of the festival spending less than 40€, just above the average daily cost of dog pensions in big cities across Europe.
OK, you don't speak Spanish at all and you don't know how to communicate with the petsitter, since there might be a strong chance they won't speak English, go figure your native language. The Nowhere Embassy got you covered – when you get in touch with us inquiring for the free kennel, let us know also if you need help to secure a local paid petsitter service in case you cannot find an hosting solution with us. If we don't have enough space to host your pet, we'll do a search and negotiate with the local petsitter even before answering to your email request, so we can be back to you with a final solution. Email us at nowhere.embassy@www.burningmax.com, deadline Sunday June 3rd.
That's all, folks! Davola says "Wooooof, wof wof", meaning "see you soon in the dust"!!!