The impact of the Nowhere festival on The Monegros
We are proud to be able to finally present our latest Growing Nowhere project, a documentary centered around a series of interviews to representatives of local Monegros institutions, businesses and communication media, who have answered on video to our unique question "what's in your opinion the impact – social, economic, cultural, environmental – of the Nowhere festival on The Monegros"?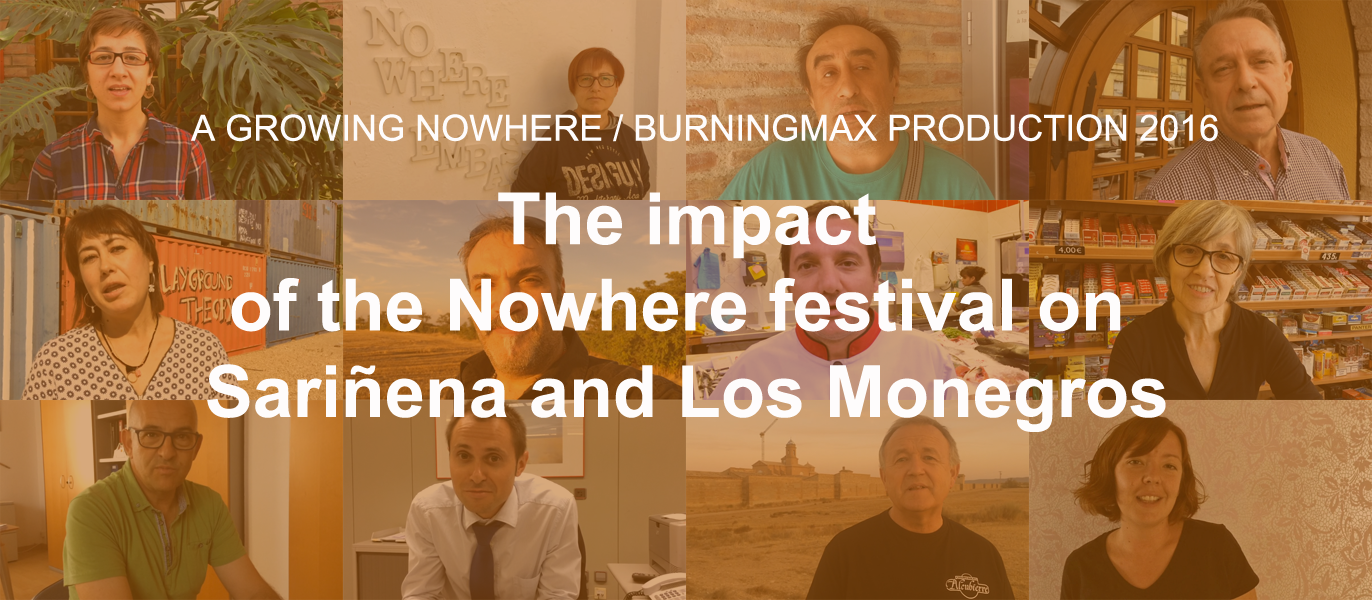 This documentary project is the final closing project of our Growing Nowhere venture, that we feel has reached its mission, by creating strong bonds and ties between the artistic and creative Nowhere community to the people and land of The Monegros. By releasing it on Christmas Day 2016, we also consider this as a Christmas gift from Growing Nowhere to both the Nowhere and Monegros communities.
We launched the Growing Nowhere back in 2013 with a press conference at Comarca Monegros, when we started creating the first interactions with the Monegros artists' community. In 2014 we tried to make a public art placement of a Nowhere art installations in Sariñena, a project that we tried also in 2015 and 2016, but that we couldn't accomplish. Maybe for this reason we decided to create an artist residency for Nowhere artists in 2015, that resulted in the build of the Nowhere 2015 Temple in Sariñena.
In 2016 we have helped planting trees in the Sierra de Alcubierre, cleaned up a riverside park in Sariñena with a No Moop Day and we have been a lot in touch with radio, papers and communication media in The Monegros, who have helped us in launching and promoting No Viernes, a cycle of Nowhere meet-ups in Sariñena, and to properly announce this year's availability of reduced price tickets for Monegros residents, which has brought more than 50 local participants to the festival in the Ruta Jubierre. Growing Nowhere's last project for Nowhere 2016 has been MARS – Monegros Artist Residency Sessions, which brought to Sariñena a dozen of artists to work from scratch or just to give "the final touch" to their Nowhere art installations and art cars. We even created a program that allowed Nowhere participants to travel to Spain with their dog, even if they were not allowed to bring him on site.
Pretty much all of our 2016 projects have received the patronage of the Ayuntamiento de Sariñena, who supported growing Nowhere by providing meeting and working spaces, and helping us communicating the various Growing Nowhere initiatives.
With this final, closing documentary project, it also ends our mission of being "ambassadors" of Nowhere in The Monegros. Now the community have met, intercultural exchanges happened, people have been working together on collaborative projects, and even the public opinion is pretty positive about the impact of the Nowhere festival in the Monegros area. We think that our work here is done, mission accomplished! Check out what institutions, business owners and professionals and representatives of Monegros' communication media have to say in our documentary (interviews in Spanish, with English subtitles).
No more spoilers, we invite you to watch the documentary (10 minutes), and to share it and comment about it on your favorite social networks. Thank you to everybody who have granted us an interview, and share their time and opinions with us. Merry Christmas and Happy New Year, see you all in Sariñena soon!
A final note: our work has not been easy. During almost 4 years of initiatives as independent organization, we have met many obstacles and very little collaboration from the same Nowhere organization which, for "internal political reasons" has often put obstacles and even formally banned the creation of some Growing Nowhere projects. By reflex, some local Monegros institutions who decided to "align" to the Nowhere organization, has closed doors, denied support and even declined an interview for the documentary project – and this after years of positive personal and professional relationships. Well… Merry Christmas to them too.