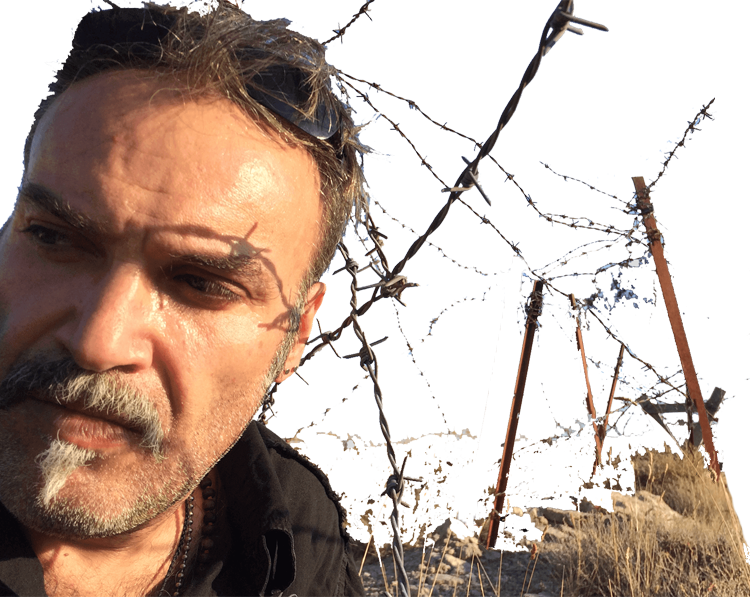 Burningmax is Massimo Burgio, an Italian multi-platform artist that has been living in The Monegros for the past two years, after more than 10 years of exploration and discovery of the region's amazing geography, history and culture.
Burningmax is Massimo Burgio, an Italian multi-platform artist that has been living in The Monegros for the past two years, after more than 10 years of exploration and discovery of the region's amazing geography, history and culture.
Burningmax is one of the nicknames I have been using for my art production in the last 15 years – my real name is Massimo Burgio. Having a nickname is a choice made by many artists in several fields – I can tell you about "a guy" named Eric Arthur Blair who decided to use George Orwell as his creative "pen name". I am Italian, a professional of internet marketing communication, and a Monegros resident since 2015, when I moved to Sariñena. But this is not where you want to know about Massimo, this is where you want to know about Burningmax, so let's talk about my profile as an artist.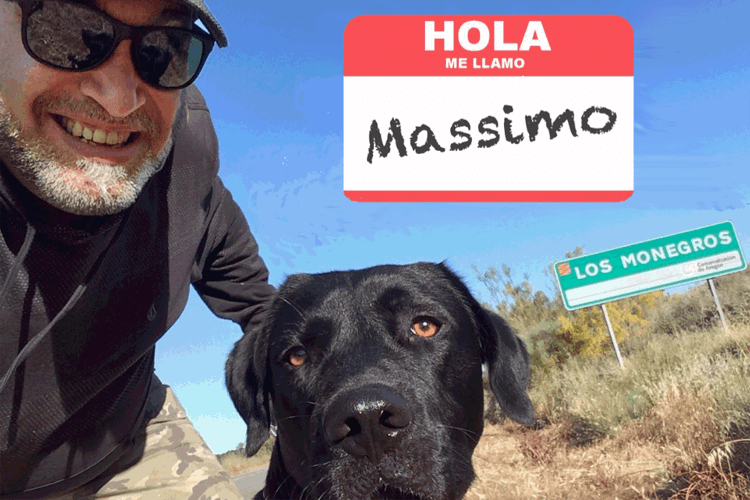 I started pretty early my commitment with the arts, getting involved with radio stations as a broadcasting DJ since 1980. In the following years, while I never lost hold of my music passion, I started getting into photography, constantly carrying my 35 mms reflex camera everywhere, specially when traveling around the world.
In 1989, at the age of 23, I started exploring new ways of artistic expression through painting – abstract, material and more and more "sculptural" at first, it was a matter of no time before I started working on environmental art installations. The installation media I decided to explored extensively are the "post-it"s – the little yellow sticky notes that I have been deploying over time in hundreds, often in thousands post-its in art installations and interventions, featured at several personal and collective exhibitions around the world.
In the mid-'90s I took a path of personal growth towards spirituality, which has been influencing my artistic production on a conceptual level to these days. In parallel, after my university degree in marketing communication for cultural sponsorships, I started consulting for contemporary art galleries and museums, organizing, curating and promoting from a communication standpoint several art projects of top international artists. This professional experience with the "mainstream" art industry also made me "reject" the creation of new art installations for a few years, as I felt the way our contemporary society "consumes" art being deeply in conflict with my independent artist spirit, seeking "radical creative expression". For a few years, I mostly dedicated to research, "messing around" with materials (mostly post-its) and techniques, as I love to say.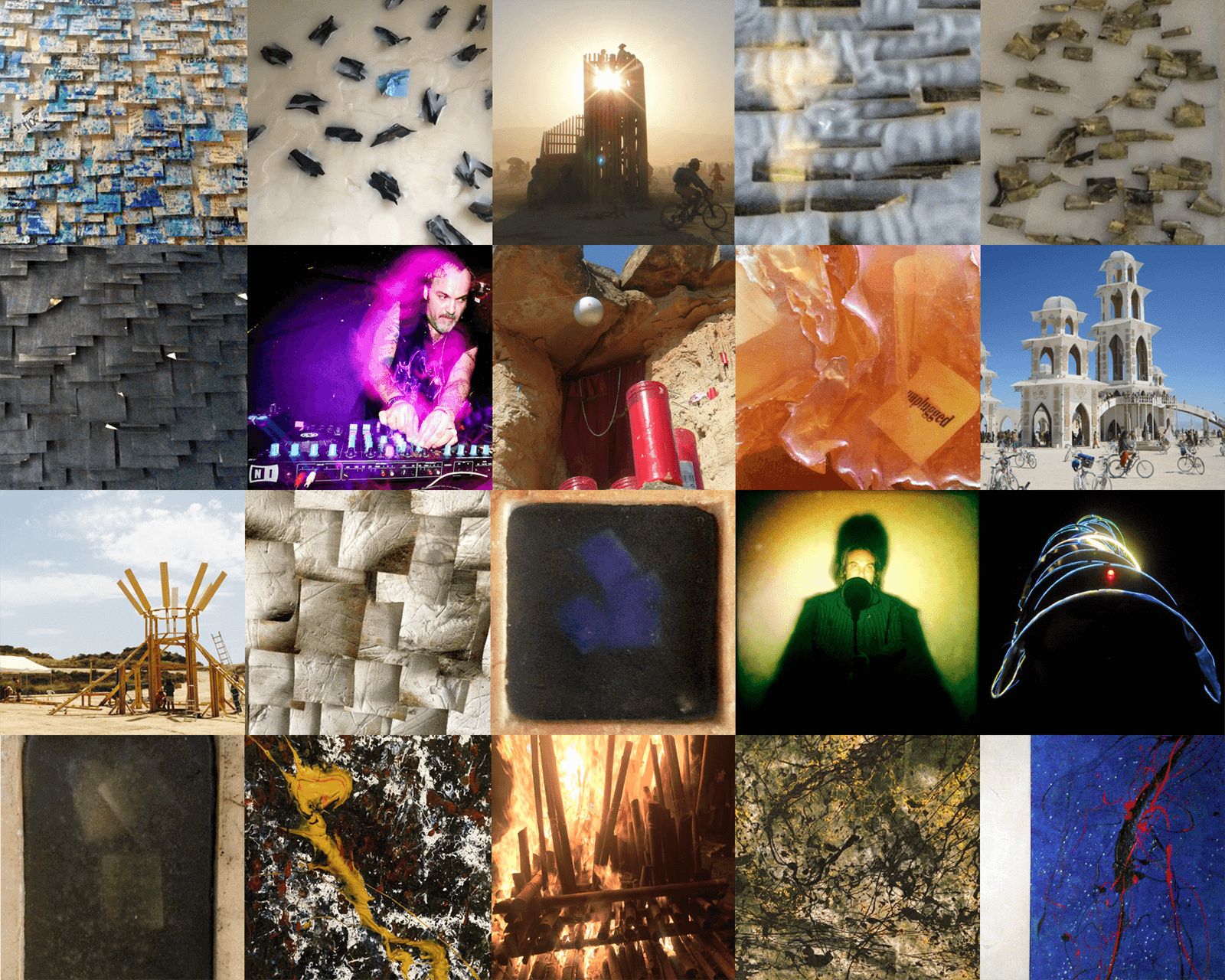 It's only in 2003, when I moved to California for work, that the passion for creating new art installations came back to life, thanks to a new commitment: the Burning Man festival, the same festival and community that a few years later, in 2007, brought me to The Monegros for the official European Burning Man event, the Nowhere Festival.
The Burning Man festival has been a sort of "renaissance call" for me, and I have embraced the "burner spirit", as well as the Burning Man principles and community, for the last 15+ years. Since my first Burning Man event in the Nevada desert (my "first burn", as we "burners" say), where I brought a land art installation based on post-it art (open to other participant's creative input), I have taken a new way and approach with art, preferring to focus on collective and participatory art projects, rather than individual ones.
Over the years, my "burner life" got me involved in the creation of several large-scale collective art projects, including the building of a massive temple, a few smaller ones, and several "desert art installations" – all of them conceived as temporary structures. I am still pretty active as a collaborative artist, and among my next art projects there is going to be another temple for the Nowhere festival, to be built in Sariñena during the month of June 2017.
Besides of co-creating art installations, I am very active as a DJ and producer, skills that I have been refining over the years also thanks to the constant participation to the burners community and its international festivals and gatherings all over the world. I'm also involved in film-making, and I'm currently working with a collective project crew that will produce an experimental short movie during the summer of 2017.
Homenaje a Los Monegros is the first art installation I have been planning as a "solo artist" and outside the official Burning Man circuit for a while, after many years of collaborative art projects. Of course, my art tribute to Monegros and to George Orwell will benefit, besides of the support of the City of Alcubierre, also of the support of a few volunteer friends from the Nowhere community, who will be helping out with the hard work of the physical installation in the Sierra of Alcubierre – because, after all, the participation to a collaborative art project is always more fun than working individually.
I will introduce the other members of the project team soon, with an article for the project blog – but yes, you can certainly say that also the Monegros land art intervention in the Orwell Trenches can be filed under "collaborative project", designed by Burningmax + Crew, and built by Burningmax + Friends!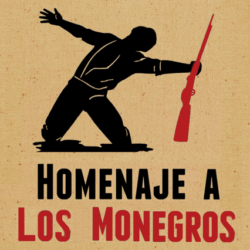 HOMENAJE A LOS MONEGROS | ORWELL MONEGROS PROJECT
A land art and cultural heritage project by Burningmax
With the institutional, media and communication support from