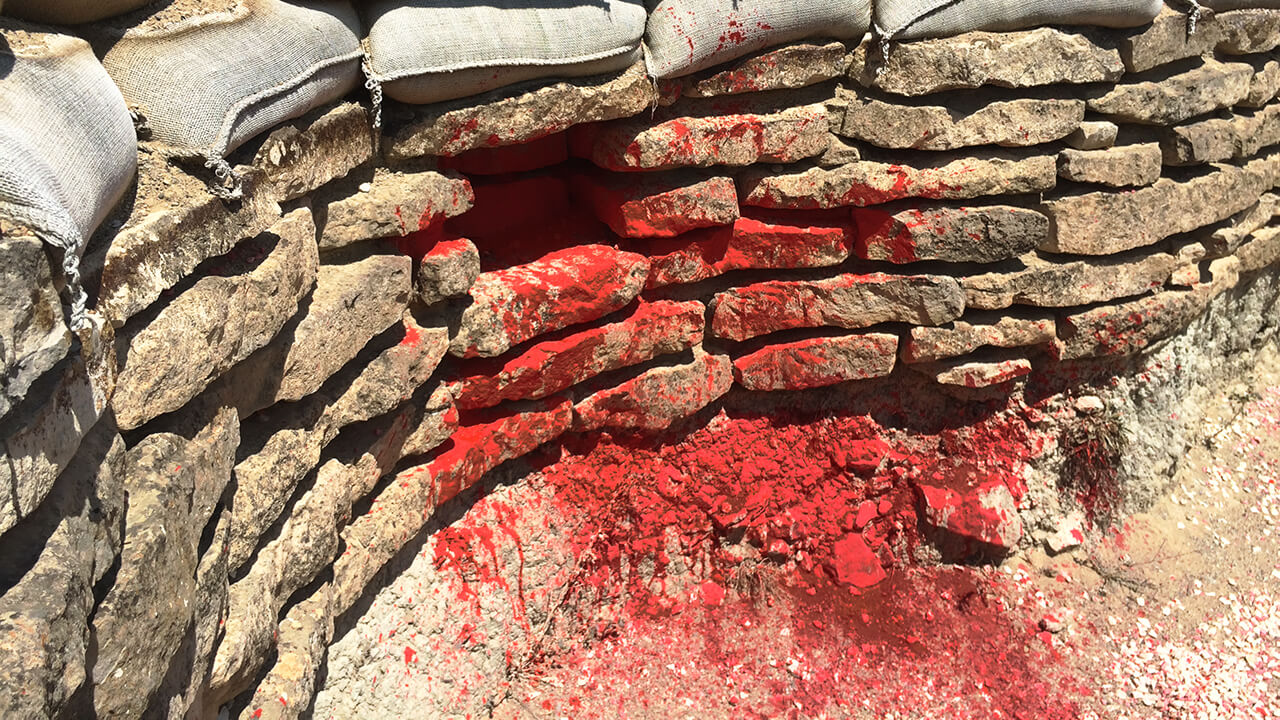 Orwell Monegros Remixed Summer 2019
Homenaje a Los Monegros, the land art installation in the Spanish civil war trenches in the Monegros, dates back to May 2017, two years and an half ago. After I left Spain at the end of summer 2017, I couldn't manage to get back to the Monegros for almost two years, until June 2019 – even if I have been a regular and even a resident in the Monegros every year for 13 years now…
When I designed and created the installation in the trenches of the Ruta Orwell I used a water-based red pigment that I thought it would have lasted for at least four years, fading slowly back to oblivion, like the horrible events that the Spanish civil war brought on the region and in the rest of Spain. But I overestimated the longevity of the pigment, as upon coming back to the Sierra de Alcubierre last summer, I saw that pretty much all of the colour already faded away, under the action of weather, time and people walking on it.
So I just decided to re-intervene. After all, I still had plenty of the same pigment I used back in 2017, and by making a new intervention – a remix, as I like to think of it – I will actually achieve also the goal to making the installation last for 4 years as originally intended. And I now know that this pigment will fade before summer of 2021.
Here is a photo gallery of the new "Summer 2019 Remix" intervention – it's not an actual restoration or the original work, as it would have requested several weeks of work, painting the gravel red and re-distributing it across the trenches. So I choose the easy, short way, with a new layer of "action painting" intervention on the "canvas" of the Orwell trenches. The new intervention might seem a bit bold, but war in itself isn't a subtle business, so bold it is. Here is the result. Enjoy.
LATEST ARTICLES FROM THE PROJECT BLOG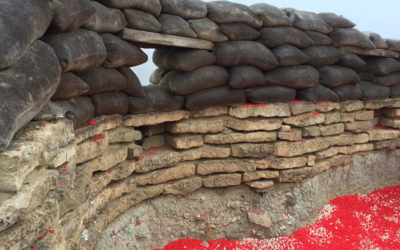 The land installation project in the civil war trenches of the Ruta Orwell has now been completed. Watch the final photo gallery and the video walkthroughs.
read more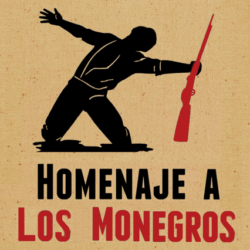 HOMENAJE A LOS MONEGROS | ORWELL MONEGROS PROJECT
A land art and cultural heritage project by Burningmax
With the institutional, media and communication support from