WTF – WONDERFUL TECHNO FREQUENCIES
BURNINGMAX LIVE RADIO SHOW ON POT RADIO
Welcome to WTF – Wonderful Techno Frequencies, the new Web Radio Show by Burningmax for Pot Radio – enjoy a weekly exploration of the wonderful frequencies and beats in techno and beyond, hitting all corners of electronic dance music.
Follow the weekly radio show on Pot Radio, and listen and download the recording of the sessions here and on MixCloud. At this page you can listen to all the broadcasted shows and download them all for offline listening, and you can also download the music mix of each show with no speaker voice, so you can use the sets for your dance parties! Enjoy!
Thank you to all the listeners of the radio show for following me, and to Pot radio for giving me the opportunity to share my favorite music and my DJ skills on air. Special thanks to the Rome-based artist and good friend @aladin for the design of all the radio show covers – check him out at his Instagram page, you'll love his work.
Follow this link to learn more about the radio show.
WTF RADIO SHOW ARCHIVE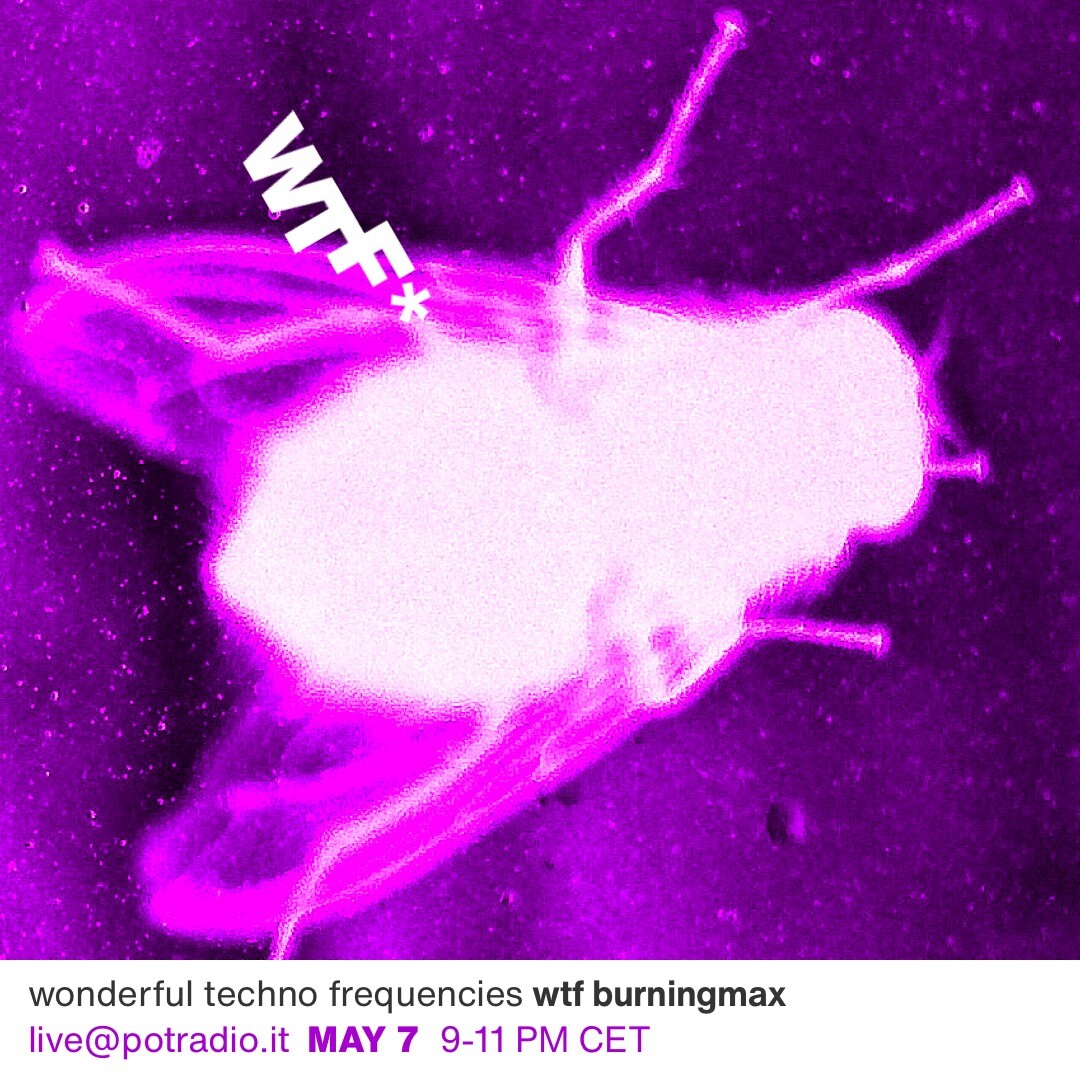 WTF 05 :: May 7, 2020
Episode 05 of the radio show on Pot Radio. New tracks – techno, some bass tracks and the usual experimental few.
WTF 05 :: RADIO SHOW PLAYLIST
:: Endless (2020 Remastered Version) – Laurent Garnier
:: Notche – Dennis Cruz
:: Midnight – Mark Broom
:: Bizarre Feeling (Jordan. Remix) – Viper Patrol
:: Icarus – Artefakt
:: You Know It – Florian
:: Hammer – Alex Aguayo
:: Club Paraíso – Tayhana
:: Insect Near Piha Beach – Four Tet
:: Shaglaba – Zenobia
:: The Paris Track – Squarepusher
:: Torch Song (Jon Hopkins Edit) – Nathan Fake
:: My Aux Mind (Juan Atkins "Cybotron" Mix) – AUX88
:: Let's Trip Out – Nyra
:: Bobkat (Extended) – Alex Rubino & Sisko Electrofanatik
:: Salsa Verde – Alan Nieves
:: Low and Slow – Patricia
:: Drive Me Crazy – Agents Of Time
:: Jigoo – Maurice Fulton & Peggy Gou
:: Blinding Waves (2020 Remastered Version) – Scan X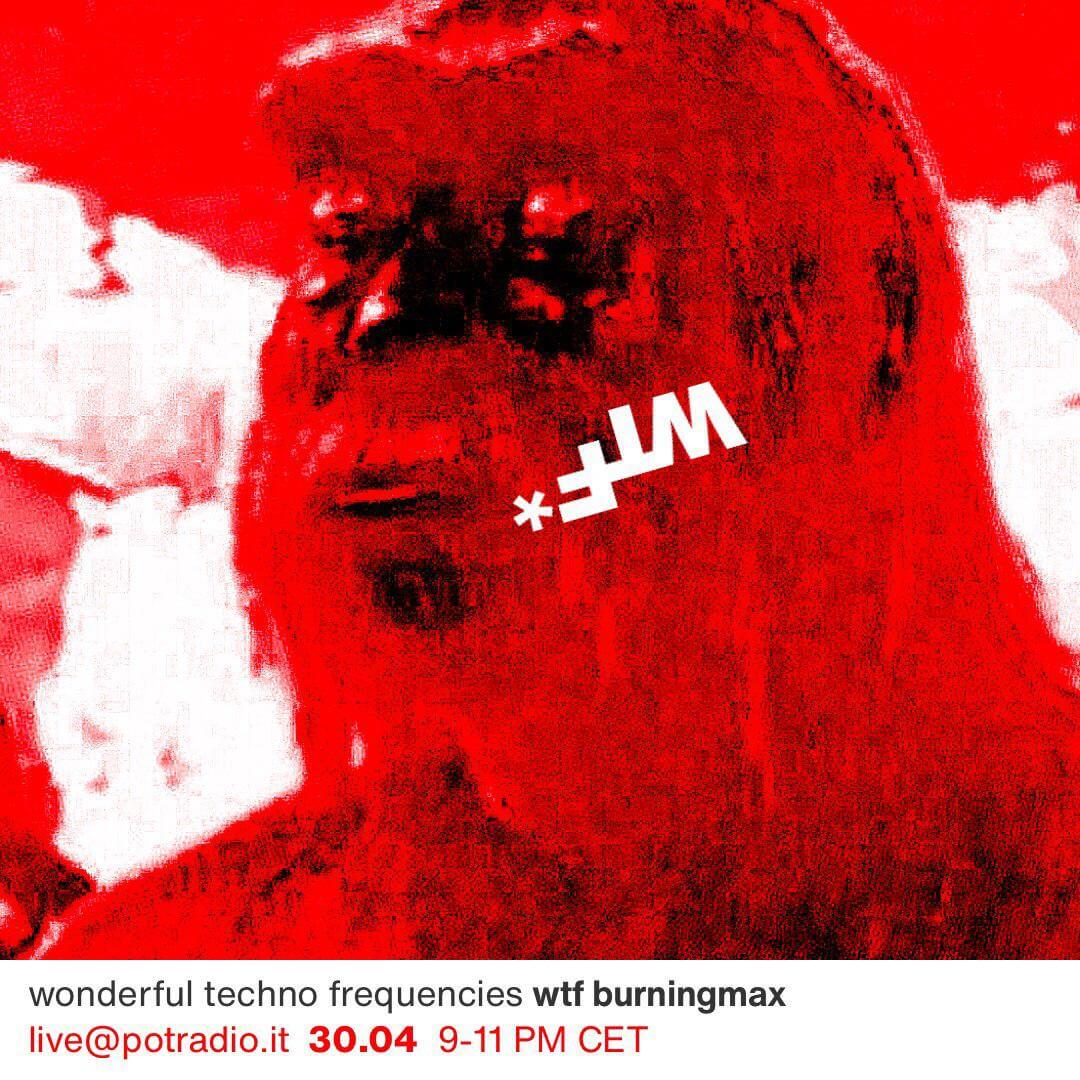 WTF 04 :: April 30, 2020
Episode 04 of the radio show on Pot Radio. Pretty much all new tracks, freshly released. Techno, some progressive sounds, a bit of experimental tracks and more.
WTF 04 :: RADIO SHOW PLAYLIST
:: Speaking Raman – Harry Wolfman
:: Free Time (Cooper Saver's Mix) – Moon King
:: PNG (Praise No Ghosts) – Tornado Wallace
:: Marrow (Oliver Deutschmann Remix) – Anachronism
:: When I Am Only a Dream – ANNA
:: CLOSE combined (When I'm a Freakin Acid Dream) [Live]- Jen Series, ANNA & Richie Hawtin
:: Lilies Were Here (Dadda Made Me Do it) – DJ Lily
:: Causes – PHILIPPE PETIT
:: Satellites – MODE_1
:: Trip – Artbat
:: Gastank – Bastian Balders
:: 8808808.08 – Andy Garvey
:: They See My Shadow – Harvey McKay
:: Andköln (Hunter / Game Remix) – Jeremy Olander
:: Session A – Claude VonStroke
:: The Moon Landing Was a Hoax (Each Other Remix by Justin Strauss & Max Pask) – Reznik & Mikesh
:: Punta Cana – Eelke Kleijn
:: Blossom – Juno Mamba
:: Atlas – Bicep
:: Sleeper Must Awaken – Kölsch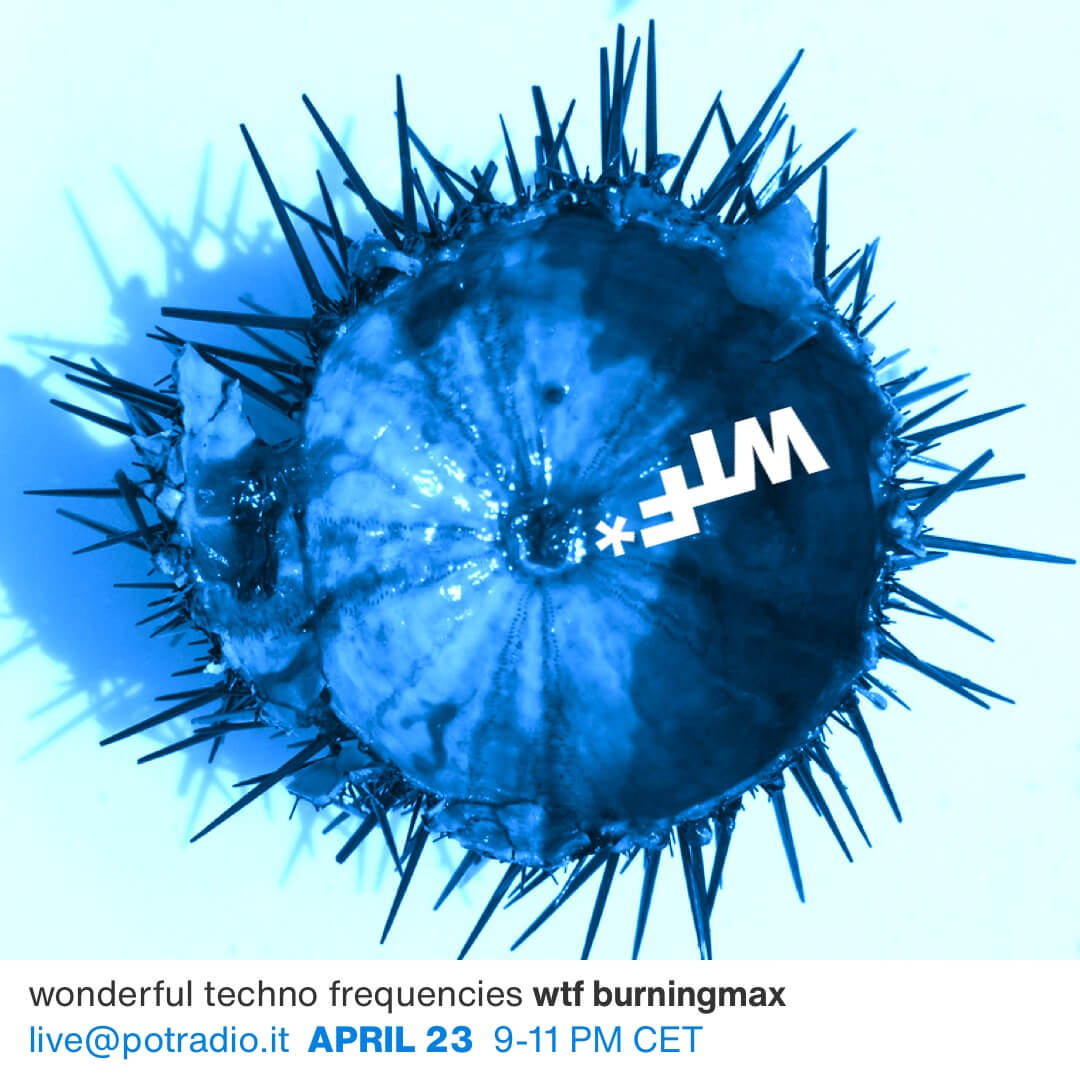 WTF 03 :: April 23, 2020
Episode 03 of the radio show on Pot Radio. New tracks as usual – techno, mostly rave, some experimental sounds and more. Featuring a new remix by Burningmax.
WTF 03 :: RADIO SHOW PLAYLIST
:: Vincent Price (feat. Lazarusman) [Burningmax Remix feat @aladin] – Phonique
:: Spectrum (Special Request Kaleidoscopic Mix) – Erol Alkan
:: Night Service (Fort Romeau Dub) – Jacques Greene
:: Dawn – Simon Doty & Zein
:: Tokyo Asmr – Emanuel Satie
:: Tokyo Harmonic Sequence – Jozef K
:: Bamboo of Kyoto – Rees
:: Knartz IV (Abe Duque Remix) – Egoexpress
:: Darkside (Redone Mix) – Abe Duque
:: Moon (Brame & Hamo Remix) – TSHA
:: Be Calm (Ft. Willaris. K) – Skin On Skin
:: Tusk (Extended Mix) – Affkt
:: Say Nothing – Ejeca
:: Pipeline – OneOneOne
:: Uni Blue (Luis Da Silva Remix) – Alva Noto
:: A2 – Entro Senestre
:: Unseen – Etapp Kyle
:: So, What Did Become of You? – A Sagittariun
:: Ecstasy – Disclosure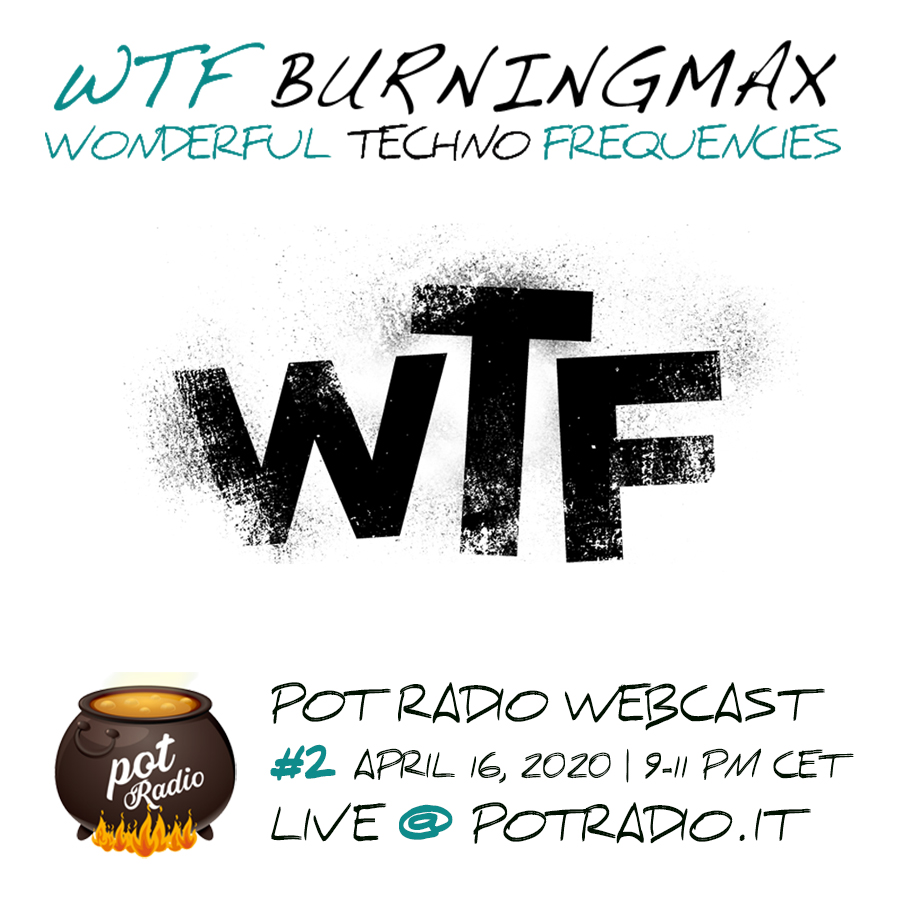 WTF 02 :: April 16, 2020
Episode 02 of the radio show on Pot Radio. Pretty much all new tracks, just released in the last 3 months. Techno, mostly rave, some experimental sounds and more.
WTF 02 :: RADIO SHOW PLAYLIST
:: Morphine (Aleksandir Remix) – Tora
:: The Wisdom of No Escape – tobias.
:: Hidden Worlds – Mall Grab
:: Leipzig Push – Schmutz
:: In Trust We Space – Redshape
:: Plastik- Ramon Tapia
:: Collide (Intro Mix) – Matt Fax
:: Roped In – Gorgon City
:: Melodies – Cubicolor
:: BOA (Mosca's Constricted Version) – BOA
:: Gally – Raito
:: Dance On It – MANT
:: Hidden Beauties – ANNA
:: Forever Ravers – ANNA & Miss Kittin
:: Rave On – A*S*Y*S
:: Mantrosax 2 – Lory D
:: Die Dünne Hand – Schwefelgelb
:: Where? – Iglesias
:: Raja – Bastian Balders
:: Molecular – Data 3
:: Eris & Dysnomia – Nathan Fake
:: If You Can't Do It Good, Do It Hard – Against All Logic (feat. Lydia Lunch)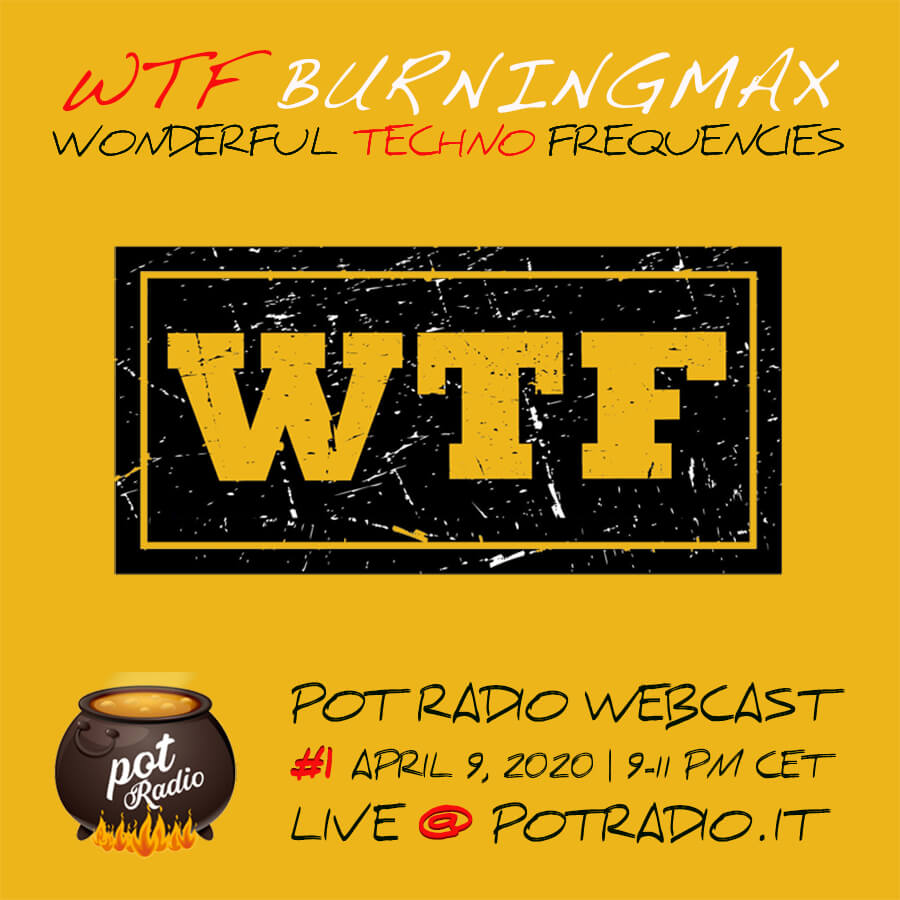 WTF 01 :: April 8, 2020
This is episode 01 of the new radio show on Pot Radio. Pretty much a pilot, with a bunch of tech issues that I fixed starting from episode 02. The playlist is eclectic, I hope you will enjoy it.
WTF 01 :: RADIO SHOW PLAYLIST
:: 420 in Kingston – E-Lit
:: From Jamaica to Brasil – Silvano Del Gado
:: Brazil (Original Mix) – Lee Foss, Eli Brown & Anabel Englund
:: Black Tea (Lissat & Voltaxx' Acid Tea Remix) – Zoo Brazil
:: Brazil – Gold Panda
:: Brazil Dot Com (Tiefschwarz Ole Ole Mix) – Isolée
:: Monument – Tale Of Us & Vaal
:: Arp Choir – Luna Semara
:: Birth (Ja Mix) – Stephan Bodzin
:: Jo Gurt (Stephan Bodzin Remix) – Super Flu
:: The Vanishing – Patrice Bäumel
:: Tengo / Drop Mechanism (Burningmax Medley) – Bwana
:: Are You (Bwana Remix) – Francesca Belmonte
:: Glue – Bicep
:: In Yer Face (Bicep Remix) – 808 State
:: Captain My Captain (Booka Shade Remix) – Pan-Pot
:: Aftermath – Booka Shade (feat. Giorgia Angiuli)
:: Groove On – Lory D
ABOUT THE WEB RADIO SHOW
WTF! What the … er … Wonderful Techno Frequencies!
Techno, tecno, tekno! Write it any way you want, techno smokes weed too! And techno comes to Pot Radio with a two-hour weekly web radio show inspired by Laurent Garnier's classic techno podcast – live mixing, and plenty of info about artists, producers, remixers, record companies, and techno culture in general.
The focus of WTF remains on techno, and on non commercial quality electronic music, that will inspire you to don't stop dancing, with an eye to the "super hot" latest release productions. There will also be surprises, such as Burningmax exclusive live remixes for Pot Radio and the occasional special guests.
The frontiers between techno and electronics are virtual, so we will dance to sounds and beats also from the house, trance, experimental, drum and bass and (occasional) dubstep planets, exploring all the magnificent dance frequencies, from hypnotic to powerfully deep, from psychedelic to noise. But also hip-hop and dub, to maintain the "spiritual" connection with Pot Radio and with our favorite plant!
RADIO SHOW SCHEDULE
WTF! Wonderful Techno Frequencies is on air live on Pot Radio every Thursday evening from 9PM to 11PM on Central European Time (CET). Don't miss it! But if you miss a show don't despair, you'll be still able to find all the podcast episodes on my MixCloud profile, and of course also on this page, where you van also download either the full podcast episode or just the music mix, or both!
ABOUT THE RADIO HOST
Massimo began broadcasting on the radio in the 1980s, with a new wave, post-punk and indie rock music program, and with the name DJ Sonic. After that seminal radio show, which lasted a couple of years, he continued to produce mixtapes, compilations and mixes to be handled out to friends, and to sweat on dancefloor around the world, under any "influence", from rock to dance.
In 2008 Massimo got his hands on a DJ console at the Burning Man festival, and since then the "fever" of the mix never left him: Burningmax was born, which in the last 12 years has played live in festivals around the world and explored the world of production, with a handful of remixes to its credit. With WTF Burnigmax returns to the radio – back to the roots!
(USUAL) DISCLAIMER
These mix are just for fun and not for commercial use. Copyright for each tune is owned by their respective artists and/or publishers. For more info on copyright see this page. Plus, hosting the DJ mix on MixCloud means that the artists recorded on each mix actually get royalties from the streaming platform.