THE HAIKU PROJECT
Pills of Zen poetry that make everything beautiful.

I always loved haikus. Not long ago I used to shoot one haiku after the other all day.
I don't remember how I came out with having a haiku per page on the music section of this site, but I like it.
Enjoy and share this Burningmax Haiku project. All the haikus made for this site are listed here for your reading pleasure.
The Burningmax Haiku Project on Twitter
The Haiku Project by Burningmax started in 2014 as a way to add a little Zen poetry to the main pages of this website, mostly the music part of it.
Things have changed over time, and my love for haikus has grown, to the point that I'm now writing daily haikus.
Now the Haiku Project leaves the boundaries of this website to develop further more on the web, for everybody to appreciate my Zen poetry pills.
For the entire year 2022 I will be publishing one haiku a day on Twitter. Check out the new Twitter account @Haikus2022 I created to boost my 5-7-5 micro-poetries.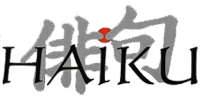 The Burningmax Haiku Project
All the haikus on this website. 
What is a Haiku?
Five, seven and five happy
dancing syllables.
The sound keeps flowing,
everybody dance and smile.
This loop is epic.
Techno is my life,
whatever the BPM.
A true pulsing heart.
Expand your knowledge,
consciousness and vibration.
Psychedelic beats.
Melody rises
from the deep textures of sound.
Glorious sunset.
The rhythm is missing,
but you can still dance to it.
At least in your head.
It might sound old school,
but this beat keeps me dancing.
Just bring on the bass.
Bring dance to the east,
to the west and in your heart.
Add a tambourine.
Lights, smiles, sweat and love
all around the DJ booth.
The rave is on, babe.
The headphones are on,
and I'm riding the Traktor.
In my living room.
Fuck this and fuck that.
Enjoy the mighty F word,
or just fuck right off.
Techno rocks tonight.
The cat in the DJ booth
is really hot.
Listen to the AUM
transcending the dancefloor.
Guru on acid.
IN-FLIGHT ENTERTAINMENT
How long to get there? I should put my headphones on and start mixing tunes.
LOVE :: HATE
Mixing love and hate is not a good idea. Or is it? Try this.
REMIXES
A killer beat is on. Let me add a sick loop to it and see how it sounds.
BURNING MAN LIVE
A dusty mixer, a Man burns in the background. Feels like the playa.
NOWHERE DJ SETS
Monegros desert inspires creativity. Fucking mosquitoes.
420 SESSIONS
Get your gear ready as it's almost four twenty. Do you roll or vape?
TIMELAPSE VARIATIONS
A fashion timelapse with techno variations. Very glamorous.
PITTI VIDEO SOUNDTRACK
It happened before, techno killed the fashion star. For a video.
GINIX BETA REMIXES
It's production time. On Traktor, not Ableton. Remix Decks and go.
MIXDECKS
Remember the first session I posted on this blog? It was a mixdeck.
ALL DJ SETS
They are all right here, all you can eat DJ sets. Go ahead and dance.
ART PROJECTS TIMELINE
Time goes pretty fast, ideas go even faster. Check out the timeline.