Due to a number of things that happened last summer, including switching to a new laptop and moving to Barcelona, I thought I lost the recording of the live djset I played at the Manrusionica festival last June in Manresa (Barcelona).
I'm very happy that I just found the recording of the live set in a back-up disk, so let me post it here before I lose it again! =)
Manrusionica launched in 2011 as a collaborative 2.0 festival of electronic music and visual arts. This year at its second edition it replicated last year's success by filling up with acts and live gigs the entire city of Manresa for 24 hrs, covering a large number of indoor and outdoor areas of the city with a full festival of electronic culture. Did I mention that Manrusionics is a no profit event and that access to all gigs, acts and performance areas is free for the public? Well done Manrusionica! Here are a couple of promo/trailers plus the official Manrusionica 2012 video.









Since I've been invited to play during the day (4-5PM) at one of outdoor stages, I decided to play one of my 420 Sessions, I hope you'll enjoy it! I wrote a blog entry for the Manrusionica blog, announcing the project and explaining what is a 420 Session. I'm also very happy that my name showed up in the official festival poster, that was posted everywhere in Catalunya last June, including in Barcelona during the mighty Sonar Festival! =)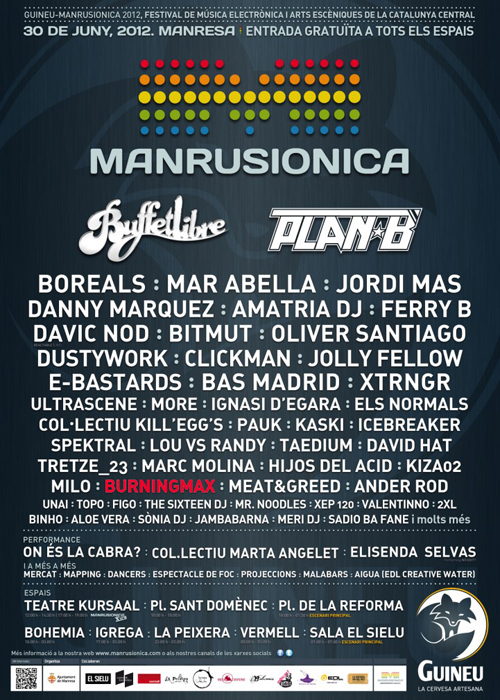 Finally, here is my Manrusionica 2012 live set!


BURNINGMAX LIVE AT MANRUSIONICA 2012 :: 420 SESSION


:: LIVE SET TRACKLIST ::
:: Galaxia – Kiko
:: The Nu-Nu Sound (2012 Treatment) – Coyu
:: 420 in Kingston – E-lit
:: Fata Morgana (Dark Version) – Dean Demanuele
:: Pill Party in India (Psychemagik Remix) – The Time And Space Machine
:: Straight to the Point (Oliver Klein Re-Edit) – Oliver Klein
:: Climb feat. Aaron David Frith (Coyu Remix Instrumental) – JoASH
:: Crispy Bacon – Laurent Garnier
:: The Nothing Song – Chicane
:: Maps (Thomas/Mayer Remix) – Ada



Liked my Manrusionica session? Download the djset from here and feel free to share it with your friends, specially the stoners! =)

This mixdeck is just for fun and not for commercial use. Copyright for each tune is owned by their respective artists and/or publishers.
For more info on copyright please see this page.