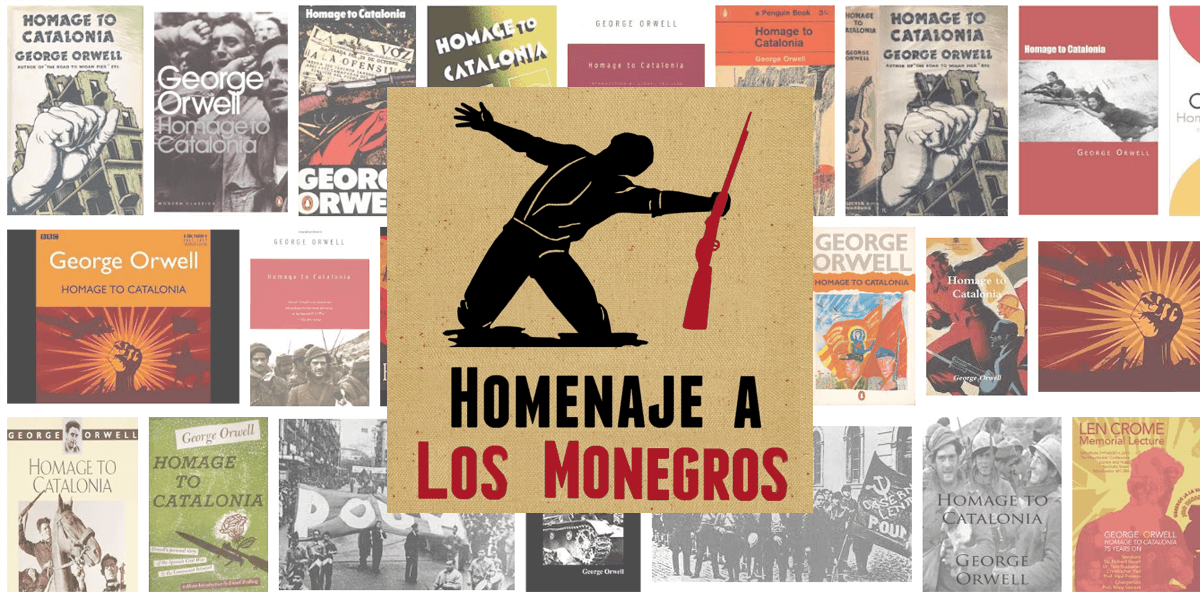 Notes about the Homenaje a Los Monegros project icon and logo
A few notes on the logo / icon I am using for the Homenaje a Los Monegros project, a "remix" of an original book cover for a "Homenaje a Cataluña" Spanish edition of Orwell's classic on the Spanish Civil War.
I found the original image while searching for "Homage to Catalonia" on Google Images, when it popped out among the many other book covers from several international editions. The first edition of George Orwell's book on the Spanish Civil war was published in the United Kingdom in 1938, but the book wasn't published in the United States until 1952, as reported by the Wikipedia. Interesting fact, the only translation of the book published during George Orwell's lifetime was into Italian, in December 1948.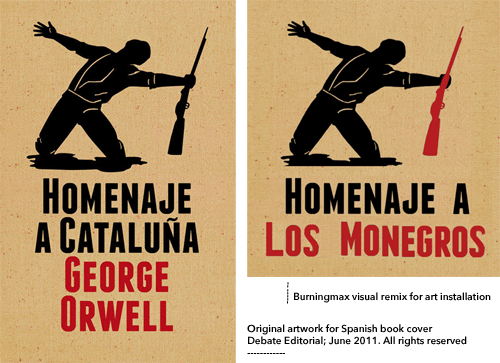 Back to the logo for the art installation, the image I created is a clear "remix" of the original cover of George Orwell's book, as published in 2011 by Debate Editorial for a Spanish edition. All the rights for the original image must obviously be attributed to the book's publisher.
My remix of the image has been subtle, but comported a bit of work nonetheless. I couldn't identify the original font but, since I liked it, I manually created at graphic design level the letters I needed to convert "Homenaje a Cataluña" into "Homenaje a Los Monegros". And of course I've changed the color of the gun to red, to connect with the visuals of the art installation in the trenches.
It is important to say that my derivative work is meant only for artistic purposes, and it will not be used commercially. I also release the Homenaje a Los Monegros' logo under a Creative Commons license Attribution-NonCommercial-ShareAlike, meaning that everybody is free to use it as they please, as long if they mention the source, don't use it for commercial purposes, and share it with the same criteria.
Why did I needed a logo for the art installation? Well, beside of using it here for the website, the original idea was to create a graffiti stencil out of it, with the plan of going around The Monegros last winter to "subliminally" announce the project. I dropped the idea of the "graffiti trailer", but I can still decide to create the stencil to make the graffiti later on, in summertime. We'll see.
LATEST ARTICLES FROM THE PROJECT BLOG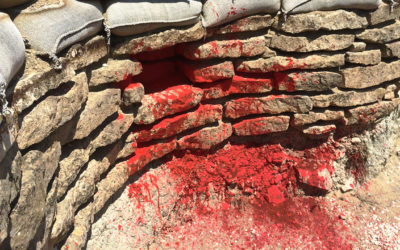 Summer 2019, a new intervention for the Orwell Monegros Project, the land art installation in the Spanish civil war trenches where George Orwell fought back in 1936. Enjoy the photo gallery.
read more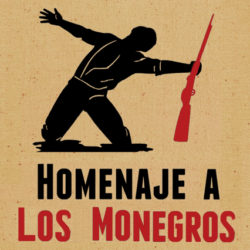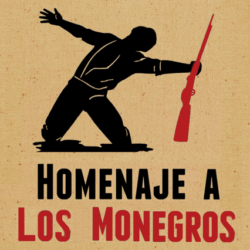 HOMENAJE A LOS MONEGROS | ORWELL MONEGROS PROJECT
A land art and cultural heritage project by Burningmax
With the institutional, media and communication support from