This is the DJ set I played at MART (Museo di Arte Contemporanea di Rovereto e Trento) last night. The Italian contemporary art museum invited me to play a live set for "Hungry Like The Woolf", a dance party inspired to Virginia Woolf and the Modernism, which I twisted into a "Angry Like The Woolf" live set.

I kicked in with a stripper song, a remixed Ella Fitzgerald and some pimped up electroswing, but pretty soon I moved into the techno rave sounds I feel more comfortable with, and closed the live set by venturing into dubstep and psychedelic electronica, just to throw in a pinch of "dancefloor modernism".
And I had plenty of fun! =) Enjoy, download, and have fun you too!



BURNINGMAX LIVE AT MART :: ANGRY LIKE THE WOOLF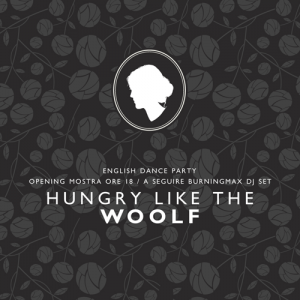 Are you wondering why I used a cameo for the cover art of the live DJ set? Check out the original flyer from MART for the "Hungry Like The Woolf" dance party, and you'll figure out on your own! =)

Enjoyed the live set? Download it from here and feel free to share the link with your friends!


:: MIXDECK TRACKLIST ::
:: The Stripper – David Rose
:: Airmail Special (Club Des Belugas Remix) – Ella Fitzgerald
:: Catgroove – Parov Stelar
:: Snake Charmer – Benny Berigan
:: Hold the Night – Lyre Le Temps
:: The Last Dance (Remix) – Parov Stelar
:: Conga Madness (Seiji Remix) – Zero Db
:: The Phantom (1930 Swing Version) – Parov Stelar
:: Love the Music (Elvis Suarez Remix) – RCMP
:: Vorsprung Durch Hektik (Mark Reeve Mix) – Extrawelt
:: Must Be a Devil (Diplo Remix) – Pixies
:: El Fantasma Del Liberdad (feat. Telmary) (Zero Db Rmx) – Raphael Sebbag
:: Haute Couture (Tiefschwarz Mix) – Maher Daniel + Ostrich
:: The Nu-Nu Sound (2012 Treatment) – Coyu
:: The Rave Is On – T. Raumschmiere
:: All You Need Is Techno (Gesaffelstein Remix) – Arnaud Rebotini
:: Wind – Innerspace Halflife
:: Too Polite (feat. Louis Vines) – Throwing Snow
:: The Music's Not Over – Pantyraid
:: Daft Punk Is Playing At My House (Soulwax Shibuya) – LCD Soundsystem
:: Midnight (Laurent Garnier Remix) – Scan X
:: The Sky Was Pink – Nathan Fake
:: The Stripper (Outro) – David Rose



This mixdeck is just for fun and not for commercial use. Copyright for each tune is owned by their respective artists and/or publishers. For more info on copyright please see this page.

PS: I know I'm late with all the DJ set I recorded live at Nowhere 2012. I will upload them all online soon, promised! =)