My three DJ sets at the Barcelona Burning Bash Weekend (also and even better known as BBB) are immediately available online by popular demand. Over the last months, while I have been recording all my DJ sets, I never had the time to actually timecode them, upload them to MixCloud, and create the relative blog posts. But this time here they are, merely one week after the event, and all three of them!
So here we go, a deep techno set with some rave, old school moments, one morning dance set for a crowd who still wanted to keep grooving, and a sweet afternoon set in the sun by a pool – all in the same blog post, for faster sharing!
One technical note: since we had some problens with acoustics at the main stage of BBB, the sets played there have very little bass – I guess you can fix that manually by pumping the bass up in your device. The poolside set has a more balanced sound, and very chilly dance tunes. Enjoy them all! =)
BURNINGMAX LIVE @ BBB 2015 :: GROOVING IN THE SUNSHINE IN THE WOODS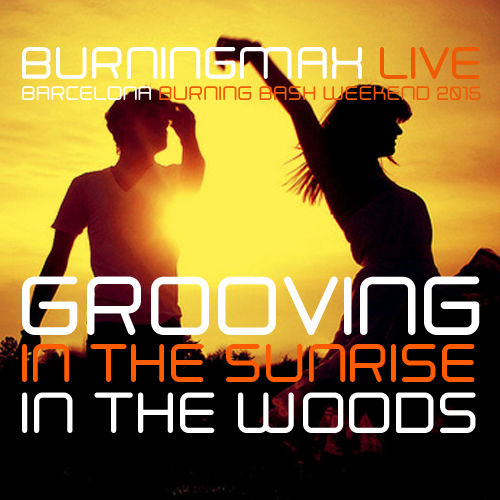 I was supposed to play a techno rave set from 4.30AM to 6AM, but at the last minute the lineup moved forward, so I found myself playing 6.30AM-8AM! Of course I had to go in a totally different "sonic direction". It was fun, but played with sound limitations and all the bass turned down, so listen to this mp3 by re-tuning your equalizer, if you can. Or just enjoy it and dance! =)
DJSET PLAYLIST
:: Swimmer – Four Tet
:: Can't Do Without You (Tale Of Us & Mano Le Tough Remix) – Caribou
:: Tree Of Life (Chymera Remix) – Hunter_Game
:: Forever Untold (Satoshi Fumi Remix) – Ian O'Donovan
:: Life Sometimes (Louis Proud Sunset Remix) – Port Limbo
:: Parade (Dominik Eulberg Remix) – Rone
:: Box Six – Slok
:: Fictional – Virginia
:: Illusions (Julian Ganzer's 23rd Version) – Ed Ed
:: As A Replicant (Philipp Gorbachev Remix) – Demian
:: Drop It ! (John Tejada Remix) – Pablo Bolivar
:: Kepler (Original) – Pan-Pot
:: E – T. Raumschmiere

You can download the DJ set in mp3 version here.
These DJ mixes is just for fun and not for commercial use. Copyright for each tune is owned by their respective artists and/or publishers. For more info on copyright please see this page.