My three DJ sets at the Barcelona Burning Bash Weekend (also and even better known as BBB) are immediately available online by popular demand. Over the last months, while I have been recording all my DJ sets, I never had the time to actually timecode them, upload them to MixCloud, and create the relative blog posts. But this time here they are, merely one week after the event, and all three of them!
So here we go, a deep techno set with some rave, old school moments, one morning dance set for a crowd who still wanted to keep grooving, and a sweet afternoon set in the sun by a pool – all in the same blog post, for faster sharing!
One technical note: since we had some problens with acoustics at the main stage of BBB, the sets played there have very little bass – I guess you can fix that manually by pumping the bass up in your device. The poolside set has a more balanced sound, and very chilly dance tunes. Enjoy them all! =)
BURNINGMAX LIVE @ BBB 2015 :: DANCING IN THE SUN BY THE POOL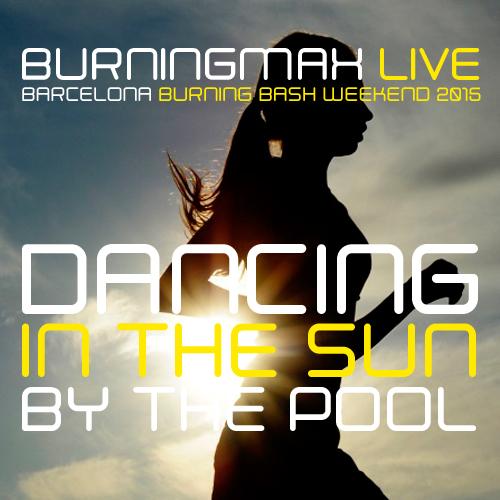 Probably the BBB 2015 DJ set I had more fun with. All my friends dancing in the sun to mellow tunes, a perfect day spent poolside, and finally an outdoor sound system with no problems with the bass. Loved it! I hope you will enjoy it too! =)
DJSET PLAYLIST
:: Faded (Delcroix + Delatour Remix) – Zhu
:: Hidden Heart of Gold (Original Mix) – Tom Trago
:: Tree Of Life (Chymera Remix) – Hunter_Game
:: L'esperanza (Ame Reinterpretation) – Sven Vath
:: I See – Nitin
:: The Unhappy Song – Teenage Mutants
:: Life Sometimes (Louis Proud Sunset Remix) – Port Limbo
:: Epika – Guy Mantzur + Roy Rosenfeld
:: DerDieDas – Kolsch
:: What Is Love (feat. Tears + Marble) – Pretty Pink
:: Nowhere feat. Billy Kern – Parov Stelar

You can download the DJ set in mp3 version here.
These DJ mixes is just for fun and not for commercial use. Copyright for each tune is owned by their respective artists and/or publishers. For more info on copyright please see this page.