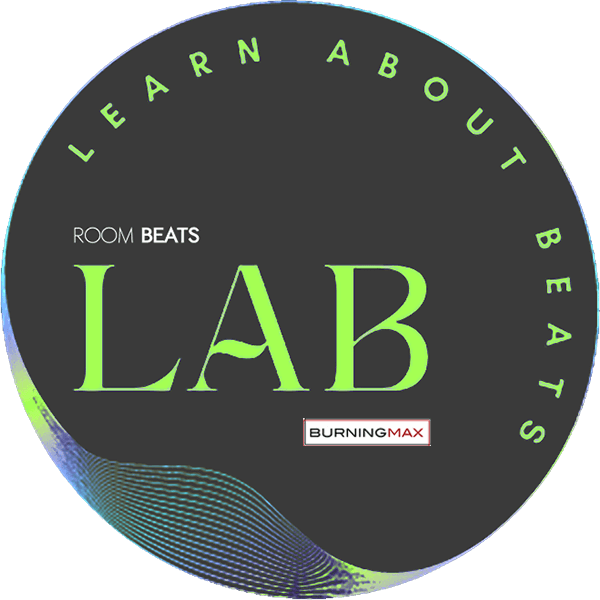 ROOM BEATS L.A.B. // LEARN ABOUT BEATS
BURNINGMAX LIVE PODCAST AT TOGETHER
Room Beats is a boiler room style party broadcasted from the Together Mansion in Rome Trastevere, where I played many times, and it's always fun!
Room Beats L.A.B. – Learn About Beats is the live podcast by Burningmax that "opens" for the Room Beats DJs. I present, play and mix the latest releases in underground music, giving details on tracks, artists, remixers, labels etc, with contributions from the Room Beats live audience and the Room Beats DJs.
Learn more about the podcast, check out the podcast episode below, listen to or download the dj set, or browse the Room Beats LAB podcast archive.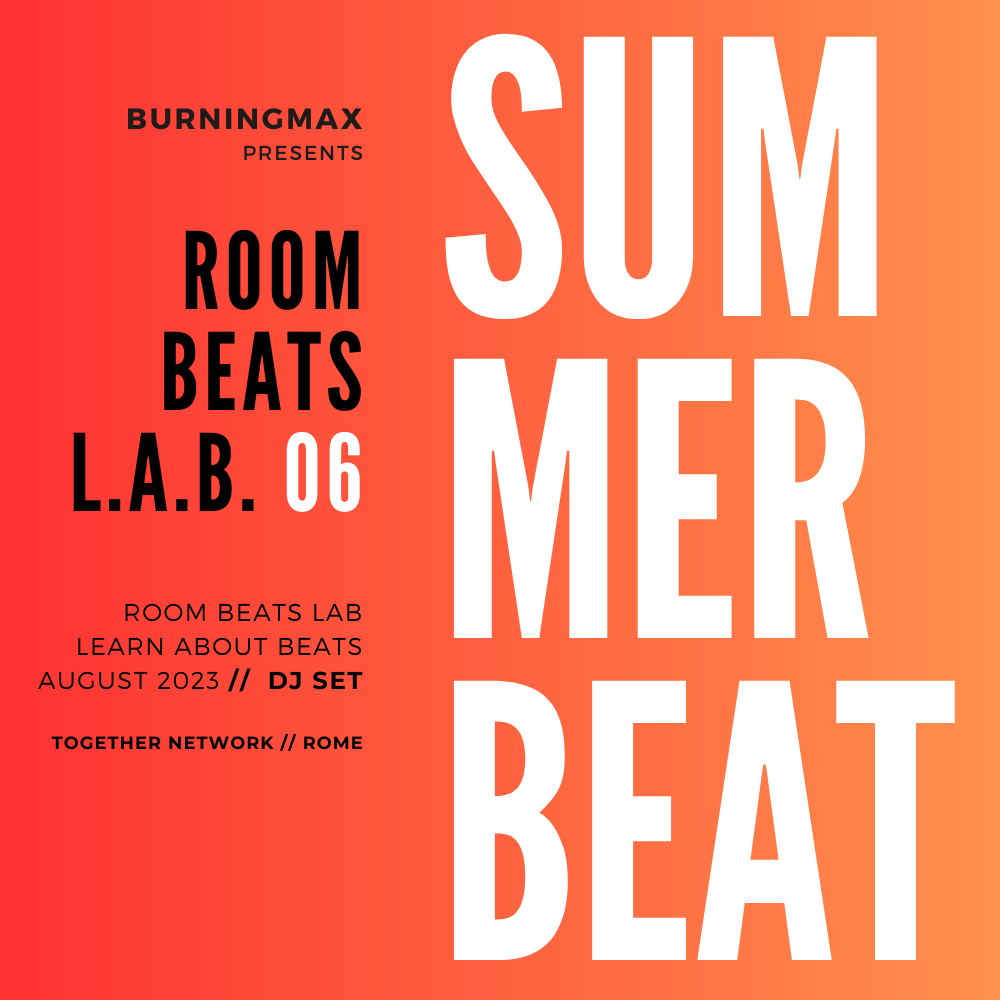 RB

LAB

06

PODCAST

 

+ DJ SET
AUGUST 19, 2023
Here comes the latest "Summer Special" Room Beats LAB DJ set, the last for this summer, before going back to the live podcast at the Together Mansion in September. Plenty of amazing new releases for this hot end of summer, mixed together the "usual" sound journey that will take you from breezy breakbeats and acid house to more and more solid beats, with some experimental episodes. 
DJ Set highlights:
New releases from Aphex Twin, DJ MInx, Recondite, Doss, Marc Romboy, and from labels Cod3 QR, Kompakt, Warp Records, ReKids, Uncage, Spectral Sound, plus a new remix by Burningmax! Also enjoy the sound mastered in Surround 7.1!
ROOM BEATS LAB 06 :: DJ SET PLAYLIST
Radio Slave – Amnesia (feat. Cagedbaby)
Thor Rixon & Yoshe – Romancin
De Lux – Rain
John Tejada – Unstable Condition (Alighted Mix)
Recondite – Introspect
Alien D – Dream Burner
Gui Boratto – Drink In Paris feat. Lhana Marlet (Dubfire Remix)
Jonny From Space – Frenz
Aphex Twin – Blackbox Life Recorder 21f
Aladarus & Shabaam – Conquest Of Paradise
Manu Dia & Lizzy Land – Tuesday Morning (Cameo Blush Remix)
Mella Dee – Groove One
Marco Bailey – Keep on Holding
Athven – Unsen
Kmyle – The Man With a FM Milk
Matisa – Tongue
Neo Image – Fourth Finger
Roy of the Ravers – Emotinium (Rave '22)
DJ Minx – D Town
Dot – Bounce
Laurent Garnier – Multiple Tributes (to multiple people, for multiple reasons)
Laurent Garnier – Multiple Tributes (Burningmax Everything is Music Rework)
Doss – Drugs
Lupe – May the Acid Be With You (Avision NYC Big Room Mix)
ABSOLUTE. – Unarmed and Extremely Dangerous
Oliver Huntemann – Dimension
Ale Effe – Run Away (Zeus Lopez Remix)
Baby T – I'm the One
Burland – Seven Eight (Magénta Remix)
SUCHI – Birdy Bell
Carré – Fainting
Origami Human – Empty Feeling
Julian Stetter – Kos
Boris Dlugosch & Marc Romboy – Survivor (feat. C.A.R.)
ABOUT ROOM BEATS LAB PODCAST
Room Beats L.A.B. – Learn About Beats is the new podcast by Burningmax that follows the airwave adventures of the two "seasons" of WTF – Wonderful Techno Frequencies @ Deli Radio and Pot Radio.
Room Beats is a boiler room style event held in the electronic lounge room of the Together Mansion, a co-living experiment in Rome Trastevere. I played a few times at Room Beats over the last few years.
Room Beats L.A.B. – Learn About Beats is the Burningmax podcast that "opens" for the DJs playing at Room Beats. I play and mix the latest underground electronic music releases, introducing tracks, artists, remixers, labels. Pretty much like I was doing with the WTF podcasts, only this time with the Room Beats live audience, that I interview about their experience in electronic music, and with the artists or labels I played. Of course I interview and try to get a few stories also from the Room Beats DJs.
PODCAST SCHEDULE
Room Beats L.A.B. – Learn About Beats has a (roughly) monthly frequency. We go live from the electronic lounge of the Together Mansion every time there is a Room Beat event – pretty much every month. If you miss a show you'll be still able to find all the podcast episodes on my MixCloud profile, and on this page, where you van also download the full podcast episodes.
ABOUT THE PODCAST HOST
Massimo began broadcasting on the radio in the 1980s, with a new wave, post-punk and indie rock music program, and with the name DJ Sonic. After that seminal radio show, which lasted a couple of years, he continued to produce mixtapes, compilations and mixes to be handled out to friends, and to sweat on dancefloor around the world, under any "influence", from rock to dance.
In 2008 Massimo got his hands on a DJ console at the Burning Man festival, and since then the "fever" of the mix never left him: Burningmax was born, and in the last 15 years Massimo has played live in festivals around the world and explored the world of production, with a handful of remixes to its credit. In 2017 Burningmax returned to the radio with two WTF – Wonderful Techno Frequencies "seasons" at Deli Radio and Pot Radio, the expanded into the new Room Beats L.A:B. format thanks to the Room Beats live audience.
THANK YOU
Thank you to the Together Mansion for being an amazing Burning Man-inspired hub and community, and for hosting the legendary Room Beats. Kudos also to everybody behind the organizing force of Room Beats, and more thank yous to the Trastevere-based sound gurus Studio 33 and HyperCast for their friendship and also plenty of technical advice for our podcast.
(USUAL) DISCLAIMER
These podcast episodes and the mix included in the podcast recording are just for fun and not for commercial use. Copyright for each tune is owned by their respective artists and/or publishers. For more info on copyright see this page. Plus, hosting the DJ mix on MixCloud means that the artists recorded on each mix actually get royalties from the streaming platform.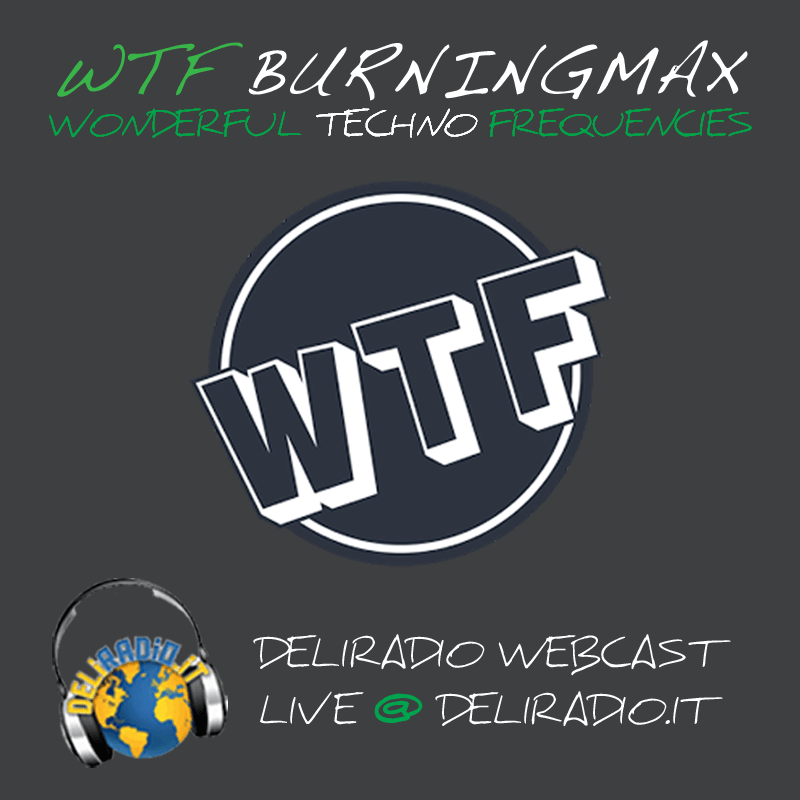 Burningmax's first podcast from the studios of Rome-based internet radio Deli Radio.
Go to podcast archive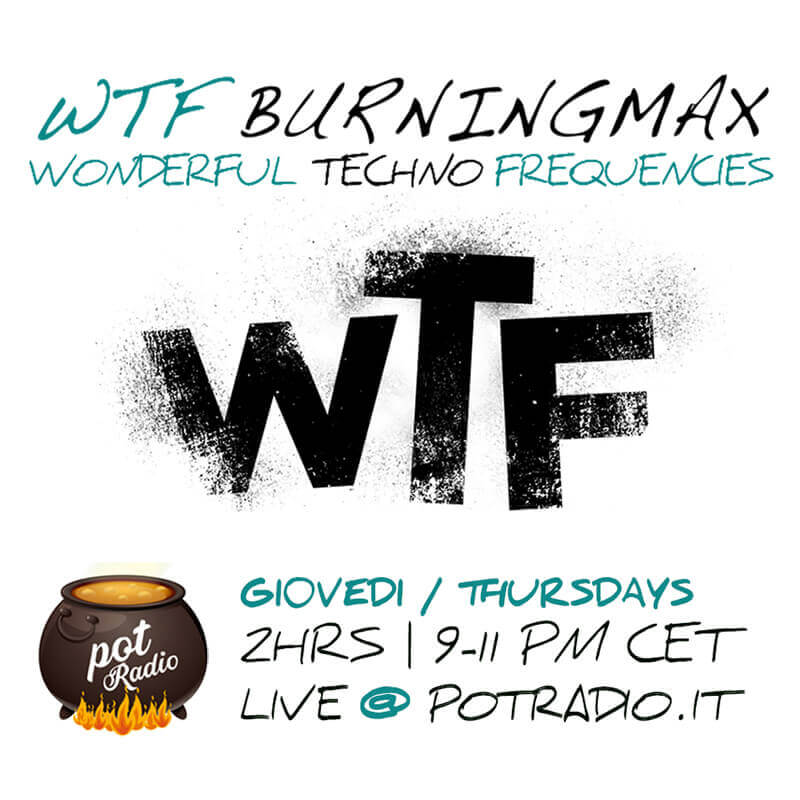 Burningmax's podcast from from home during lockdowns for Rome-based internet radio Pot Radio.
Go to podcast archive