I haven't played much live this year, but I've been stacking up tons of massive tunes. Last month I figured out that I've been listening to plenty of great music that I've never shared with anybody else, and what's worst is that I didn't even tried to pass it on decks.
So I said "Fuck it, let's empty the summer crates on Traktor and see what happens". What happened was that the selection alone took almost an entire month… and I ended up with three different mix, even if more than 90% of the tunes didn't made the selection. Bummer.
Anyway, there's enough music to keep everybody happy: 4 hours of relaxing electronica, 2 hours of uplifting dance music, and further 90 minutes of massive beats – music for all tastes! Since the whole idea started with a "Fuck it" (without the hypocrisy of the asterisks), the decision about the name of this multiple studio DJ set was immediate: introducing Burningmax's F Trilogy!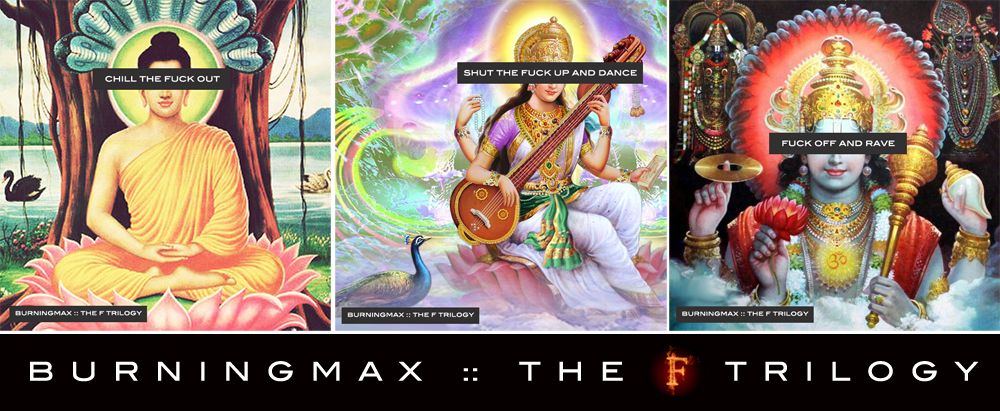 Take it personally or not, I hope you enjoy it. Do not forget to check out also the other two mixes, Shut the Fuck Up and Dance and Fuck Off and Rave – in the mean time, enjoy 4 hours of blissful music, and chill the fuck out!

F TRILOGY 1/3 :: CHILL THE FUCK OUT



DJSET PLAYLIST
:: Asakusa – Fakear
:: Birth (Ja Mix) – Stephan Bodzin
:: Docks – SoloWg + Leonard Bywa
:: Appearance (Original Mix) – Trashlagoon
:: Smukke Lyde – Dave DK
:: Levitate – Boston Bun
:: The Valley of Songs – Woo York
:: Glory (16 Bit Lolitas Remix) – Jean-Michel Jarre + M83
:: I Neva Seen – Galcher Lustwerk
:: bb – Neu Balance
:: Stole the Night (Midland Remix) – Howling
:: Pay the Rent (Barnt Remix) – Alex Burkat
:: Elevation (Boston Bun Kickless Remix) – Para One
:: Lora (Robag's Fandara Qualv NB) – Coma
:: Moonface – Kölsch
:: Hühnergott – Dominik Eulberg
:: Endless Games (Patrice Bäumel Mix) – Blond:ish
:: It's You (feat. Lois) – Of Norway
:: Never Wander – Sei A
:: Sub Conscious (Kamera Remix) – Erol Alkan
:: Turn Around (Âme Remix) – Sailor & I
:: Tell Me Why (feat. Stereo MC´s) [Re.You Mix] – Terranova
:: Centrifuge – Andre Hommen
:: De Natte Cel – T&T Music Factory, Seth Troxler + Tom Trago
:: Drop Mechanism – Bwana
:: Lone Raver (feat. Name One) – Maxxi Soundsystem
:: Moon Rabbit – Ruede Hagelstein
:: Aerial – Indieveed
:: Your Love Will Set You Free (C2's Set U Free Remix) – Caribou
:: Late Night (Pablo Bolivar Remix) – Trulz + Robin
:: Materium (Ripperton Remix) – Alex Niggemann
:: Distance To the Waves – Pale Blue
:: Paint By Numbers – Throwing Snow
:: Closing (feat. Dyllan) – Thylacine
:: Angel (Rebotini Remix) – SCSI-9
:: Bermuda – Hunter_Game
:: EXpand (Tale Of Us Remix) – Plastikman
:: Tonii (Dixon Retouch) – Indieveed
:: The Spirit (Adriatique's 7am Remix) – Butch
:: Two 0 One – John Tejada
:: Lonely Planet – Nautiluss
:: Go Back (Fort Romeau Absolut Remix) – Tony Allen + Damon Albarn

Liked Chill the Fuck Out? Download the DJ set from here, enjoy it and share it with your friends!

This mix is just for fun and not for commercial use. Copyright for each tune is owned by their respective artists and/or publishers. For more info on copyright please see this page.