I haven't played much live this year, but I've been stacking up tons of massive tunes. Last month I figured out that I've been listening to plenty of great music that I've never shared with anybody else, and what's worst is that I didn't even tried to pass it on decks.
So I said "Fuck it, let's empty the summer crates on Traktor and see what happens". What happened was that the selection alone took almost an entire month… and I ended up with three different mix, even if more than 90% of the tunes didn't made the selection. Bummer.
Anyway, there's enough music to keep everybody happy: 4 hours of relaxing electronica, 2 hours of uplifting dance music, and further 90 minutes of massive beats – music for all tastes! Since the whole idea started with a "Fuck it" (without the hypocrisy of the asterisks), the decision about the name of this multiple studio DJ set was immediate: introducing Burningmax's F Trilogy!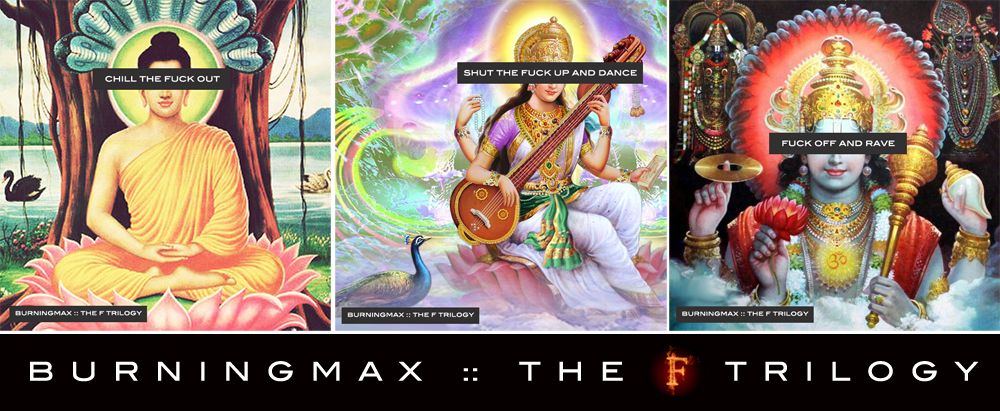 Take it personally or not, I hope you enjoy it. Do not forget to check out also the other two mixes, Chill the Fuck Out and Shut the Fuck Up and Dance – in the mean time, just "fuck off and rave"!

F TRILOGY 3/3 :: FUCK OFF AND RAVE



DJSET PLAYLIST
:: Starscream – Comet/Tail
:: No Paren – DJs Pareja
:: Invader (Alden Tyrell Remix) – LA-4A
:: Wall To Wall – Special Request
:: On Fire – Mistress Barbara
:: Raider – Raumakustik
:: MDMA – Paul Woolford
:: Sleep Cycles (Oliver Deutschmann Remix) – Vårdslös
:: Excuse Me – Boys Noize
:: Fuck Off – Mala
:: Atica (Joey Beltram Rmx) – Dosem
:: Blade Runner (Zadig Remix) – Woo York
:: Cloud Generator – Kink
:: Nothing To Declare (Jonathan Kusuma Remix) – Vicky Montefusco
:: Belly Of The Beast (Tom Demac Remix) – Gazelle Twin
:: Dioneli – Cuartero
:: Crispy Bacon – Laurent Garnier
:: Untitled (2) – Porn Sword Tobacco + SVN
Liked Fuck Off and Rave? Download the DJ set from here, enjoy it and share it with your friends!

This mix is just for fun and not for commercial use. Copyright for each tune is owned by their respective artists and/or publishers. For more info on copyright please see this page.