I haven't played much live this year, but I've been stacking up tons of massive tunes. Last month I figured out that I've been listening to plenty of great music that I've never shared with anybody else, and what's worst is that I didn't even tried to pass it on decks.
So I said "Fuck it, let's empty the summer crates on Traktor and see what happens". What happened was that the selection alone took almost an entire month… and I ended up with three different mix, even if more than 90% of the tunes didn't made the selection. Bummer.
Anyway, there's enough music to keep everybody happy: 4 hours of relaxing electronica, 2 hours of uplifting dance music, and further 90 minutes of massive beats – music for all tastes! Since the whole idea started with a "Fuck it" (without the hypocrisy of the asterisks), the decision about the name of this multiple studio DJ set was immediate: introducing Burningmax's F Trilogy!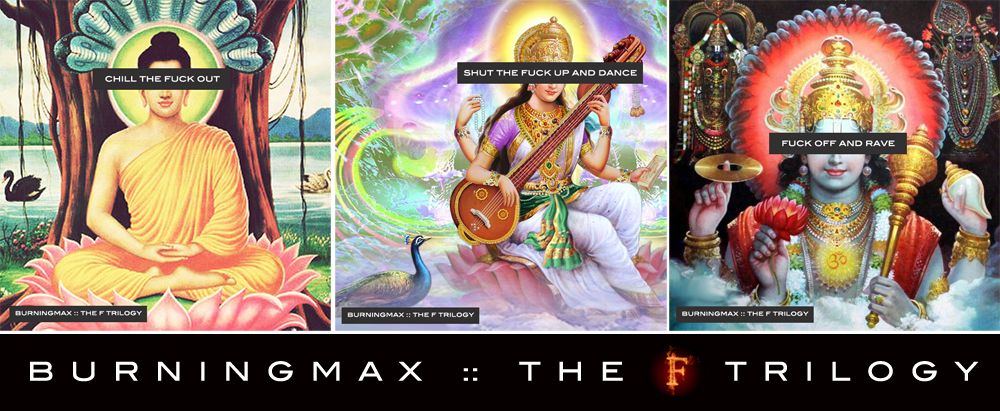 Take it personally or not, I hope you enjoy it. Do not forget to check out also the other two mixes, Chill the Fuck Out and Fuck Off and Rave – in the mean time, enjoy a couple of hours of dancefloor, and "shut the fuck up and dance"!

F TRILOGY 2/3 :: SHUT THE FUCK UP AND DANCE



DJSET PLAYLIST
:: Just – Bicep
:: Levitate – Boston Bun
:: Manipuri – Jürgen Paape
:: Fall (Oxia Remix) – Kidnap Kid
:: PHØENIX – John Monkman + Pete Tong
:: Beat Da Boxx (Marc Romboy Bon Soir At Warehouse '94 Mix) – Laurent Garnier
:: Life Sometimes (Atilla Cetin Nitec Mix) – Port Limbo
:: Jo Gurt (Stephan Bodzin Remix) – Super Flu
:: Psyched Up (Sisterhood Remix) – Jacques Renault
:: For an Endless Night (Jel Ford Remix) – Alan Fitzpatrick
:: Primed – Pleasurekraft + Tiger Stripes
:: Ama Dablam (Microtrauma Remix) – Trashlagoon
:: Endless Games (Patrice Bäumel Mix) – Blond:ish
:: Who the F*** Cares (Christian Prommer Remix) – Speaking Minds
:: Bodyback – Noir
:: In the Middle of Nowhere – Madben
:: Heroe – Adana Twins
:: Arp Choir – Luna Semara
:: Pacer – Kölsch
:: Manchester City (Traumer Remix) – F.e.m.
:: Cast Away – Etherwood

Liked Shut the Fuck Up and Dance? Download the DJ set from here, enjoy it and share it with your friends!

This mix is just for fun and not for commercial use. Copyright for each tune is owned by their respective artists and/or publishers. For more info on copyright please see this page.